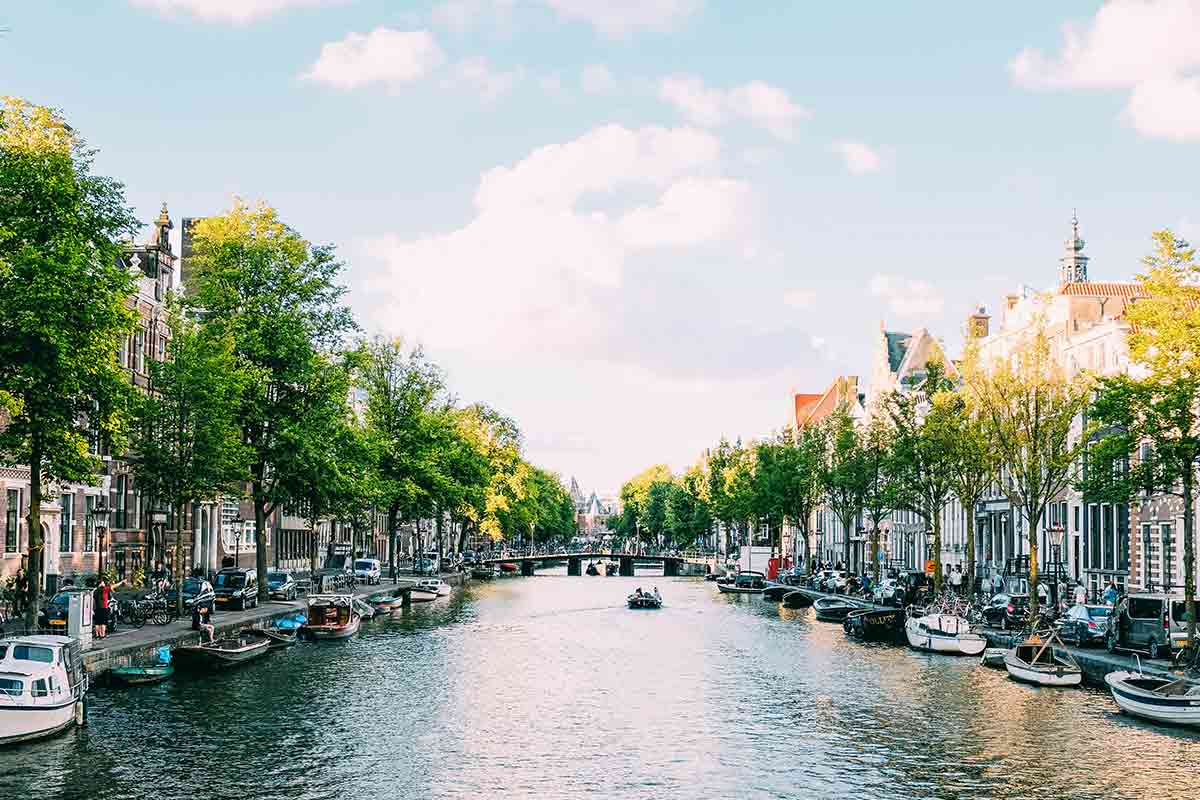 Amsterdam is one of the most vibrant cities in Europe, a cosmopolitan capital that has managed to keep its identity intact, despite thousands of tourists from all over the world visiting it every year.
Organizing a trip to Amsterdam means spending a few days amidst the charm of the canals, the art of the city's famous museums and the carefree nightlife of the Dutch capital.
But how many days in Amsterdam are enough to make the most of this cool destination known for its artistic culture and futuristic outlook on life?
How many days in Amsterdam?
This is a difficult question to answer, especially when taking into account the various travel budgets and actual available time to spend when it comes to proposing some of the amazing day trips you can do from the capital.
In this post, we'll suggest how long to stay in Amsterdam and exactly what to do during that time so you can maximize your stay in the Venice of the North.
Is Amsterdam worth visiting?
There are some good reasons why you should visit at least once Amsterdam, a city also known for its high standards of tolerance and freedom.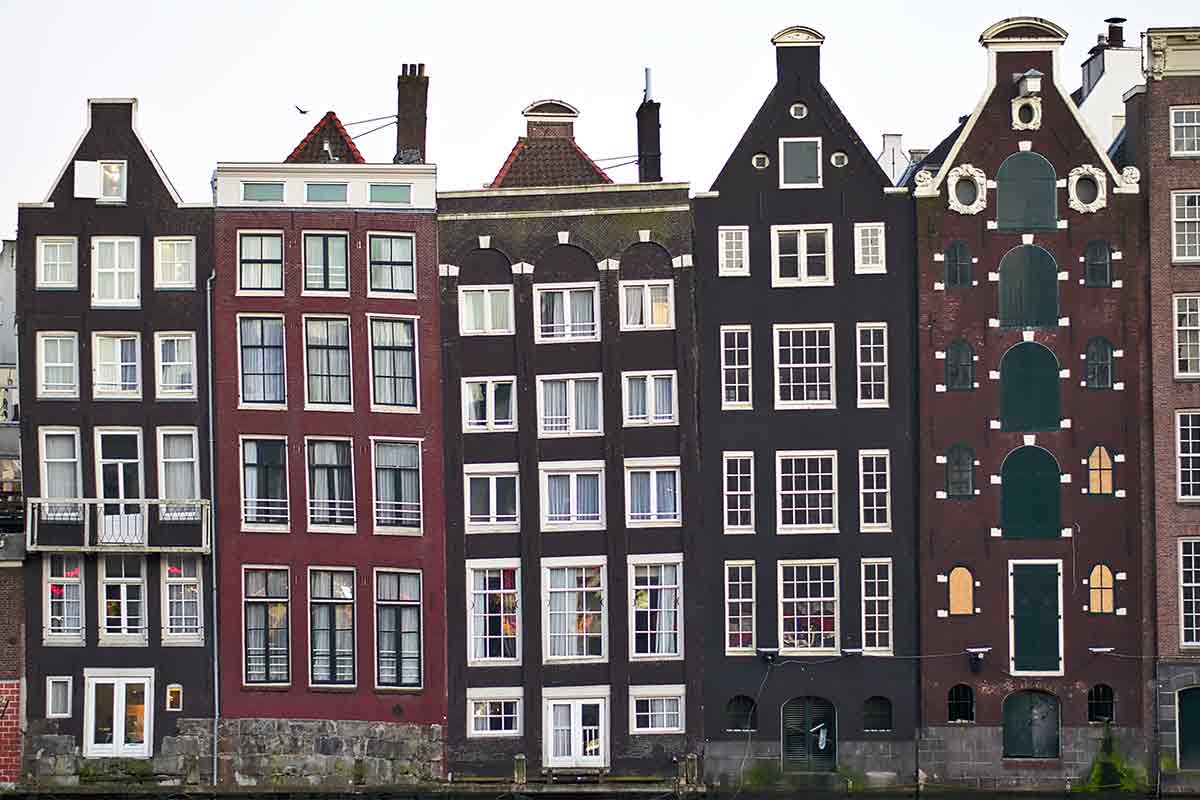 Below are the reasons to visit Amsterdam that we consider worthwhile:
Amsterdam's canals are so famous that the capital city was renamed the 'Venice of the North'. The canals are one of the symbols of Amsterdam. They date back to the 17th century and represent UNESCO World Heritage Site. For this reason, don't miss the chance to get on a canal cruise, a real must-do experience!
Not only a city famous for its welcoming and friendly locals but one that really loves… Bikes! Don't be surprised to see everyone moving around by bike to go basically everywhere. One of the best ways to visit it is in fact by renting a bike and exploring its streets, shops and main districts.
The city's museums are absolutely worth your time and energy and there are many! On your list should absolutely be included the Stedelijk Museum, the Van Gogh Museum, the Anne Frank's house and Rijksmuseum. If you're a beer lover, you're in the right place! If you want to know more about one of the most popular beers in the world, then join the Heineken Experience, a tour to discover the first Heineken brewery.
Impacts of tourism in Amsterdam
Amsterdam is one of the most attractive northern European destinations and a perfect place to spend a weekend.
Thanks to the several cheap flights offered by low-cost airlines like Ryanair, it's extremely easy to get to Amsterdam on a budget from wherever you're based in Europe.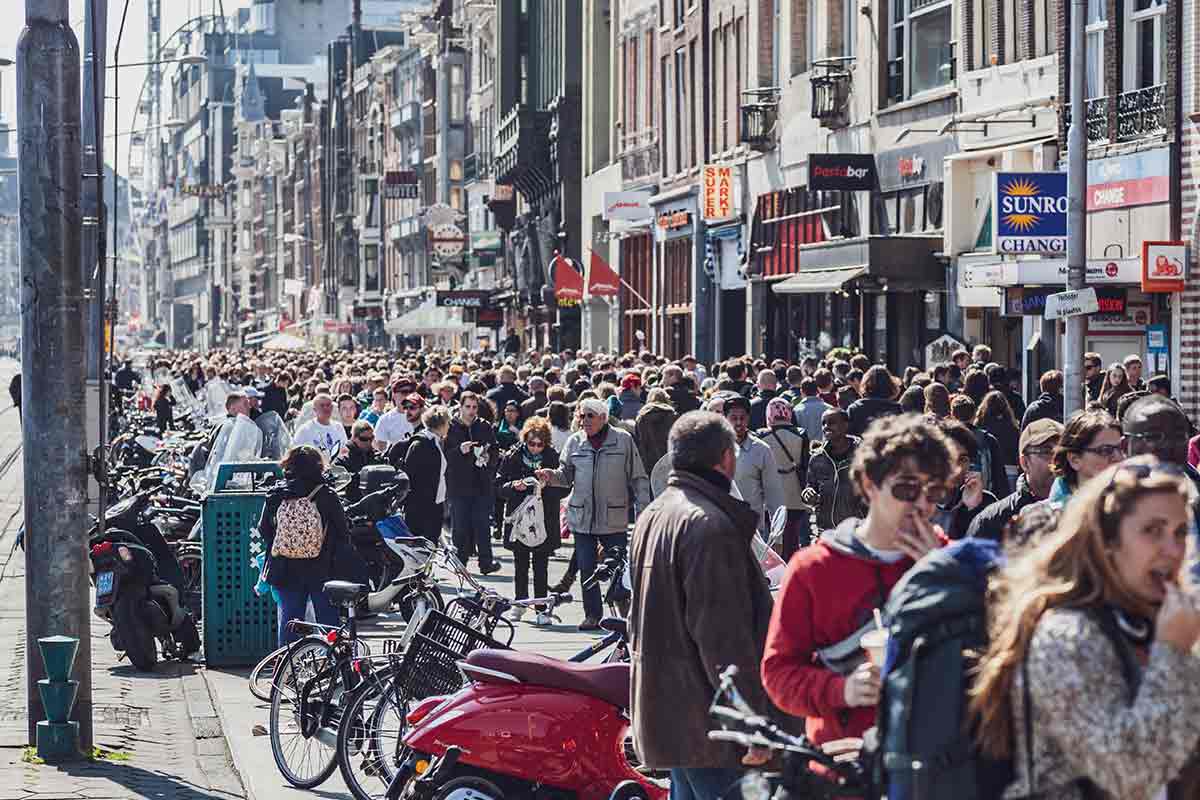 Today there are 8,476,600 visitors arriving in Amsterdam each year! Just like many other smart cities that are on the rise throughout Europe, tourism is an established source of income for the capital city and many benefit from it, but there are also some negative sides of the industry to take into account.
In fact, Amsterdam is subject to over tourism, which means that the city is overcrowded because of the large number of tourists taking over its public spaces. This phenomenon has unleashed strong tensions in part of the inhabitants. Residents claim the increase in house prices and struggle to rent.
House prices and rent costs are particularly inflated due to the spread of online platforms such as Airbnb. Another consequence of mass tourism is the disappearance of small locally-owned shops, replaced by tourist shops and hotel chains, which is a cause of the inhabitability in the city for its locals.
For this reason, residents escape from Amsterdam, a city made to fit visitors' needs rather than its citizens' needs, and, that is risking losing its original authenticity and charm.
Where to stay in Amsterdam?
There are many independent hotels and B&Bs where you can have a fantastic stay in Amsterdam, see below some of our best suggestions selected for you:
Rokin Hotel – a trendy 3-star boutique hotel in the heart of the city centre. Just a few meters away from Dam Square and Amsterdam's Central Station. Breakfast included in the room price.
Hotel De Hallen – located in the Oud-West district of the city, this 4-star hotel offers all the amenities and servies you need during a stay in Amsterdam. If you end up staying here, don't miss the chance to visit the nearby Ten Katestraat market.
Hotel Estheréa – a 4-star hotel situated along the Singel canal, it's only 300 meters away from Dam Square and the main attractions of the city.
How Many days in Amsterdam is Enough?
If you're still asking yourself how many days in Amsterdam is enough, with no further ado, keep reading below to learn what's our final suggestion!
Is one day enough for Amsterdam?
One day in Amsterdam is certainly not enough to visit the city. But if Amsterdam is just a stop of an itinerary or you're passing by and want to take advantage of it to see something, then there are a few things you can do.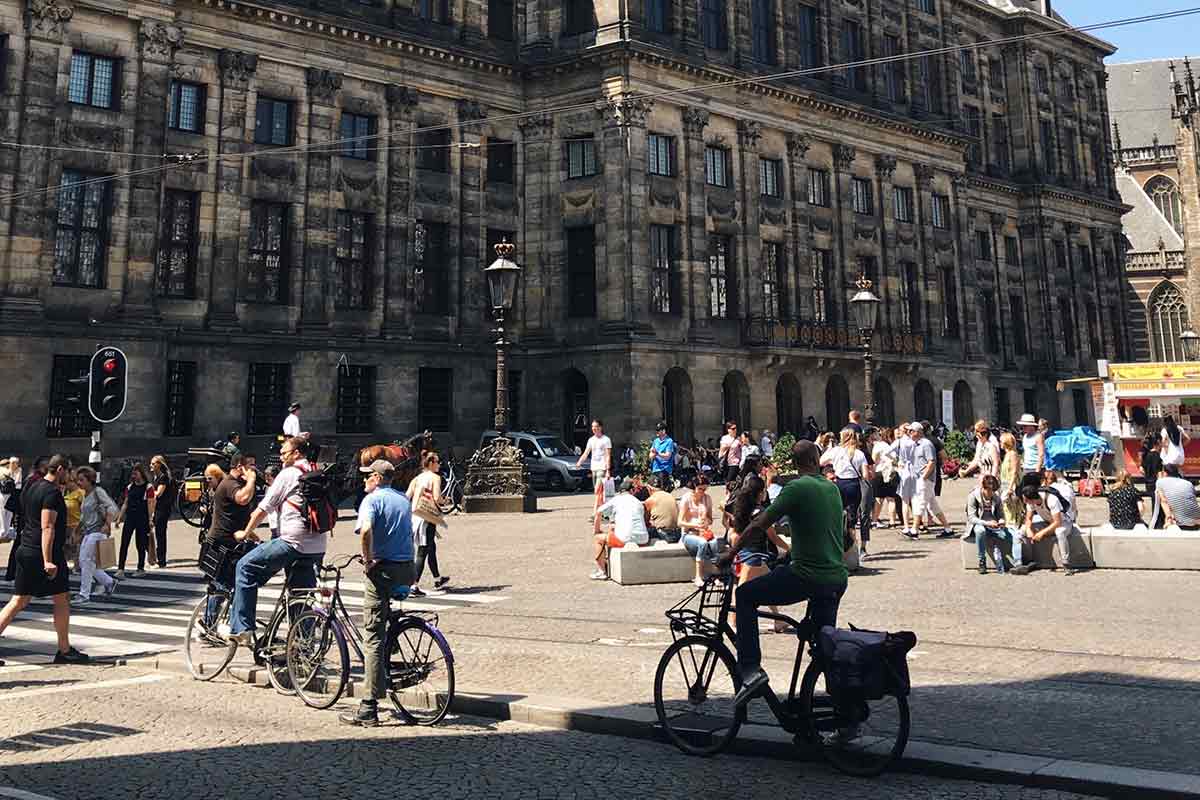 To get into the real Amsterdam atmosphere, we recommend renting a bike for the day to move around its streets. The first place you should stop by is Dam Square, one of the most important squares.
Then move towards one of the best-kept hidden gems of the city: the Begijnhof. Here is where the beguines lived, women who dedicated their lives to helping others.
Then you can keep riding around De 9 Straatjes and spend some time for shopping and then visit the Jordaan neighborhood where Anne Frank's house is and the museums' district where two of the most important museums of the city are based: Van Gogh Museum and the Rijksmuseum.
Is 2 Days in Amsterdam enough?
If you're asking yourself how many days in Amsterdam is enough, we can say that two days is still not enough time to visit all the best the city has to offer.
But if you only have 48 hours to spend here, then on top of the attractions mentioned on day one we recommend exploring the iconic red-light district also called where sex workers perform in front of the shop windows.
Did you know that prostitution is legal in the Netherlands? If you want to learn more about this place, visit the Red Light Secrets, a prostitution museum created by a former sex workers.
If you didn't have time to visit the Van Gogh Museum or Rijksmuseum it's now time to add the missing on and we also recommend discovering more with Stedelijk Museum, the modern and contemporary art and design museum.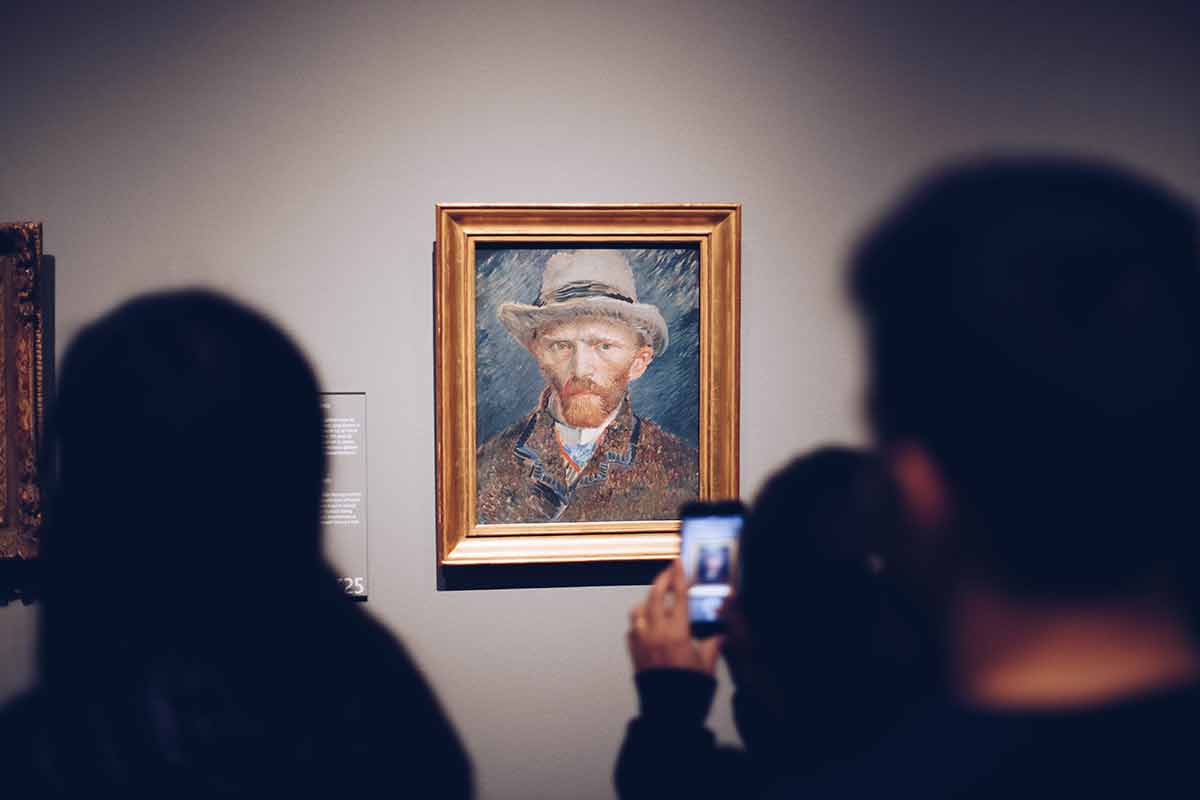 If you get the Amsterdam Card, which allows traveling by public transport and free access to many museums in the city, this one will have free entrance.
Time to wind down and take a cruise on the canals of Amsterdam, one of the main attractions, which will be completed for free with your tourist card. Last but not least, you can't leave Amsterdam before having tried some of its traditional food!
Let's start with the most popular street food, the 'war fries' served with Dutch mayonnaise, raw onions and Indonesian satay sauce. You should also try the krokets, stamppot, herring and stroopwafels for a delicious sweet treat.
Is a week in Amsterdam too long?
Spending a week in Amsterdam is a bit too long, but it can work well if you start exploring Amsterdam's outskirts and nearby towns or villages.
If you're thinking about spending a week in Amsterdam, visit the famous windmill village Zaanse Schans. You can also have a meal inside some of the mills there!
You can easily plan independently a day trip to it, since it's pretty close to the capital city or join a guided day trip, we recommend this Zaanse Schans, Volendam, and Marken day trip that includes a visit to the villages of Volendam and Marken.
Another day trip from Amsterdam could be Haarlem, a beautiful medieval city that's just 30 km away. Finally, why don't include a visit to Den Haag (The Hague), the city where the Dutch royal family resides?
Hague is also famous for shopping, the sea and its Mauritshuis museum, where you can admire masterpieces by Vermeer and Rembrandt.
If you're around here during the summer, you can also spend some time at Scheveningen beach, a great place for walking and swimming.
Our recommended amount of days in Amsterdam
The perfect amount of days to spend in Amsterdam is 4 days. Spending a long weekend is the ideal way to make the most of this city, visit its most important attractions and a few hidden sights that make of this capital such a popular one.
In addition to the landmarks mentioned on days 1 and 2, you should visit the De Pijp neighborhood, full of lovely small restaurants and shop selling local products. Here you can also see the first Heineken brewery.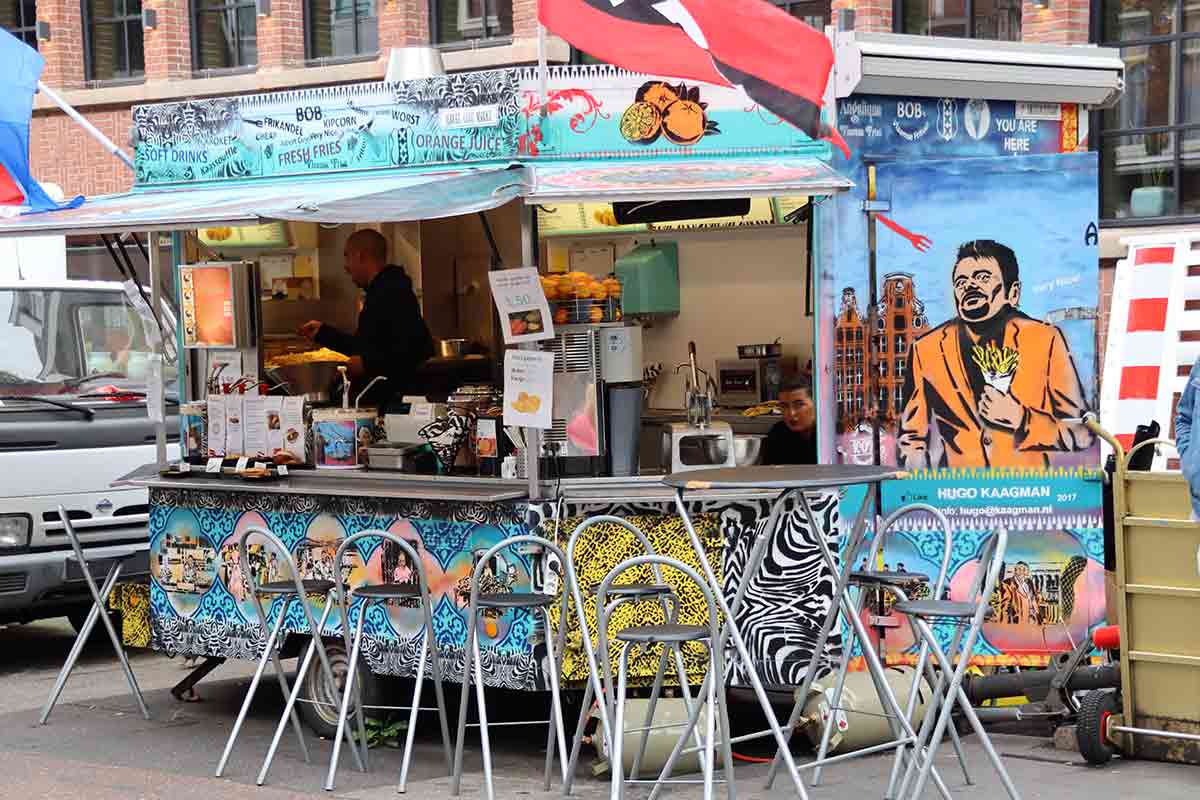 After that, take a tour of the largest day market in the world, the Albert Cuyp Markt and stroll around Vondelpark, the large city's park.
If you're enjoying the museum experience, you should also stop at Body Worlds, the museum with real human bodies. Finally, make your way to the Amsterdam Noord district and go on top of the tallest tower in the city, the A'DAM Tower.
Since you're in this part of the city, you can't leave without a stop at the NSDM, a former shipyard turned into a cultural hub with fantastic graffiti and where you can find many bars and eateries for the night.
If you still have time to spend here, we recommend adding one of the day trips mentioned in the previous paragraph!
Best Guided Tours in Amsterdam
One way to optimize your time and learn more about Amsterdam is by joining guided tours. Tours accompanied by local experts are good as they allow you to save time and get to know the city through a local's eyes.
Doing tours in Amsterdam
When you decide to book a guided tour in Amsterdam, you know you'll be supporting a local guide and save a lot of your precious time.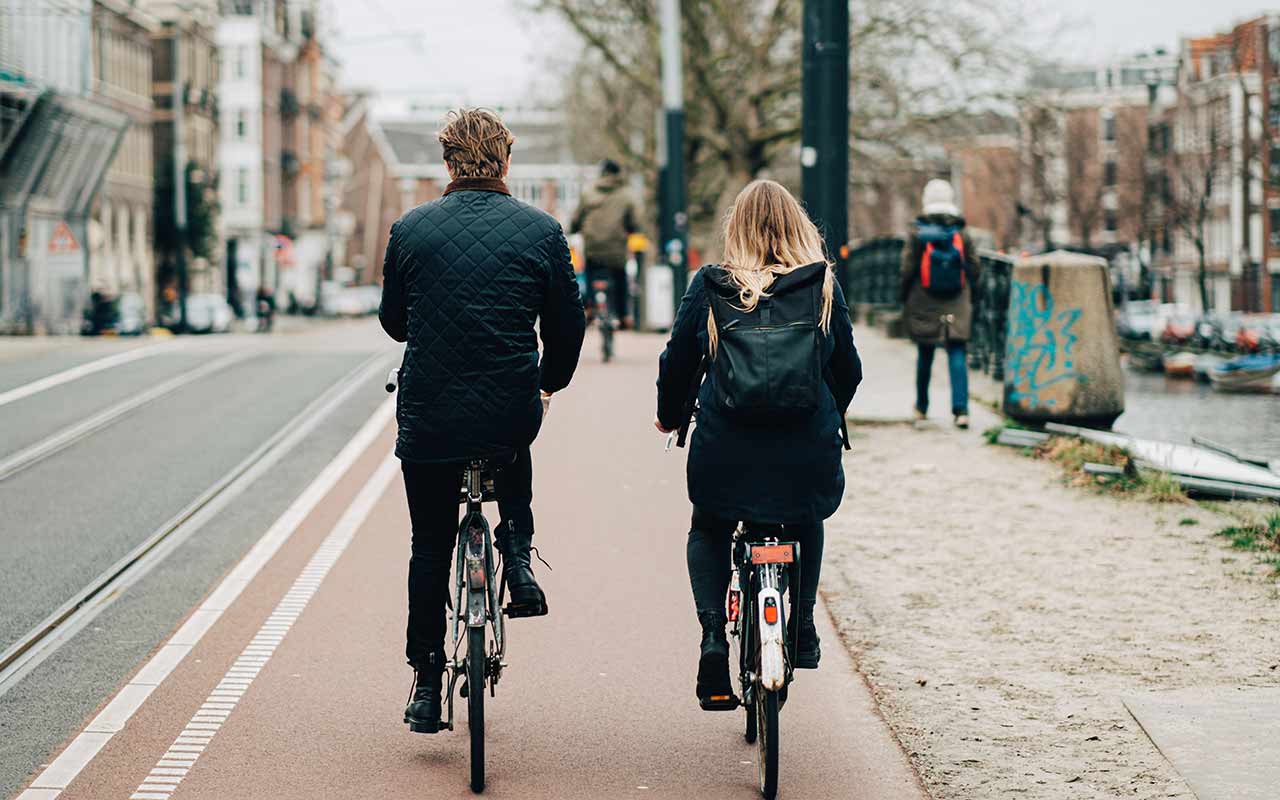 Instead of planning what to do and reading a guidebook or online information, you can relax and completely rely on a professional guide showing you around different attractions in the city.
A guide is a local person that knows all the neighborhoods, how to move around, where to eat and hidden gems worth discovering. The guided tour is the perfect time to ask questions and advice about anything you want!
We're 100% sure that your guide will be more than happy to listen and help. These are some guided tours and experiences in Amsterdam that we want to recommend to you.
Amsterdam City Canal Cruise
Amsterdam's canals are one of the symbols of this city and a UNESCO World Heritage site.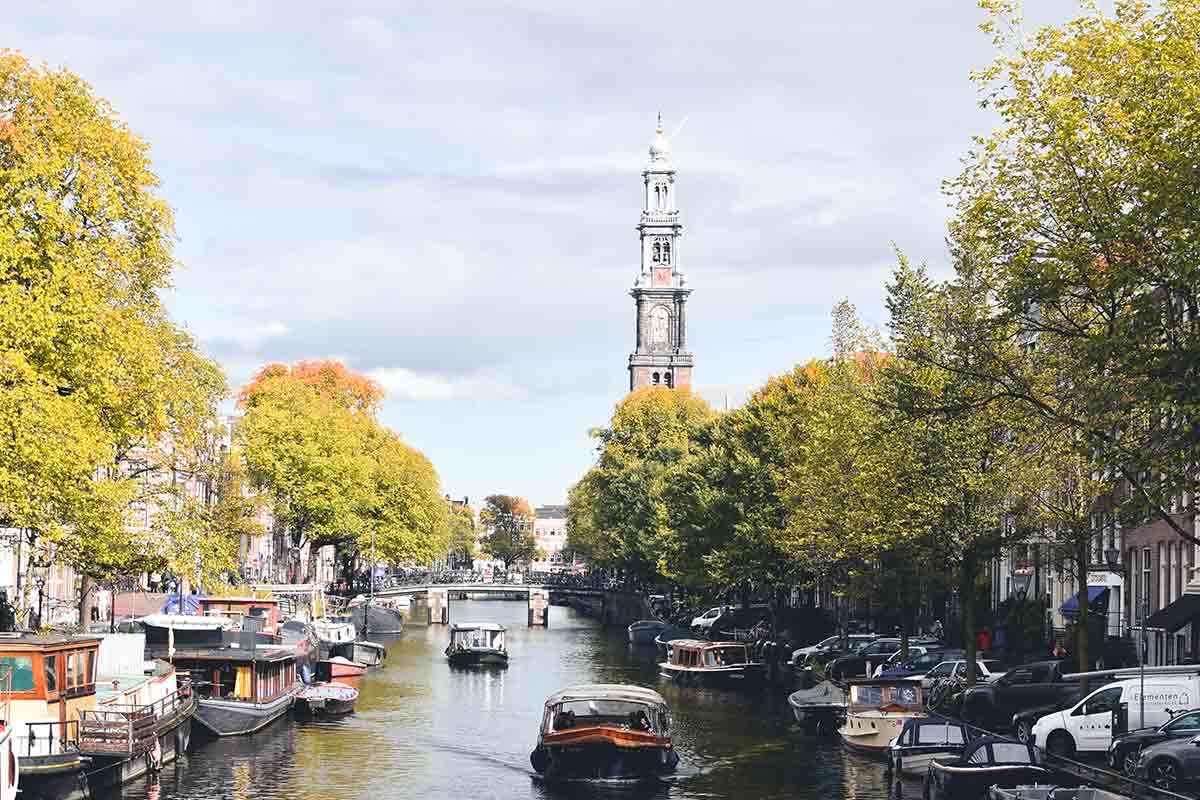 There's no better way to explore the city than by navigating them and this City Canal Cruise is perfect! The tour lasts 75 minutes, during which you'll admire from the boat, the charming waterfront houses and bridges.
Heineken Experience Ticket
The well-known Heineken beer comes from Amsterdam and it dates back to the year 1867! That's when Gerard Adriaan Heineken built a new brewery in the heart of the city.
Explore the former brewery and learn everything about this beer by getting your ticket to the Heineken Experience Ticket. The ticket includes the entrance, a presentation in English, 2 drinks and a small tasting of the Heineken beer.
Evening Canal Cruise
If you want to see the city by night from a different perspective, then why don't you join the Evening Canal Cruise instead of the daytime one? During this boat tour, you'll see the historic city center, the bridges and merchant houses.
You'll also have the chance to pass by Westerkerk, Amsterdam Centraal Station, A'DAM Lookout and the Rijksmuseum, just to name a few. Included in your tour, are the multi-lingual audio guide and onboard snacks (if you decided to get them at the time of booking).
Anne Frank and World War II Walking Tour
If you want to learn more about Anne Frank and her story during the II World War, then you should definitely join this Anne Frank and World War II Walking Tour.
An expert guide will show around the city during a walking tour and explain every detail of Anne's life whilst growing up and the history of the Jewish Quarter and its most important monuments.
How Many days in Amsterdam?
At this point, you should have a better idea of how many days in Amsterdam are enough.
We recommend a minimum of 3 days, but ideally 4 to make the most of this city and include a day trip to other Dutch villages.
If you want to learn more about how to travel sustainably to a city like Amsterdam, check out our sustainable travel tips post.
---
Dear responsible traveler: This post may contain affiliate links, which means, if you click through and make a purchase, book a tour or a hotel, we may earn a small commission. This is at no additional cost to you. Your support means a lot and helps us to maintain the quality of this site.