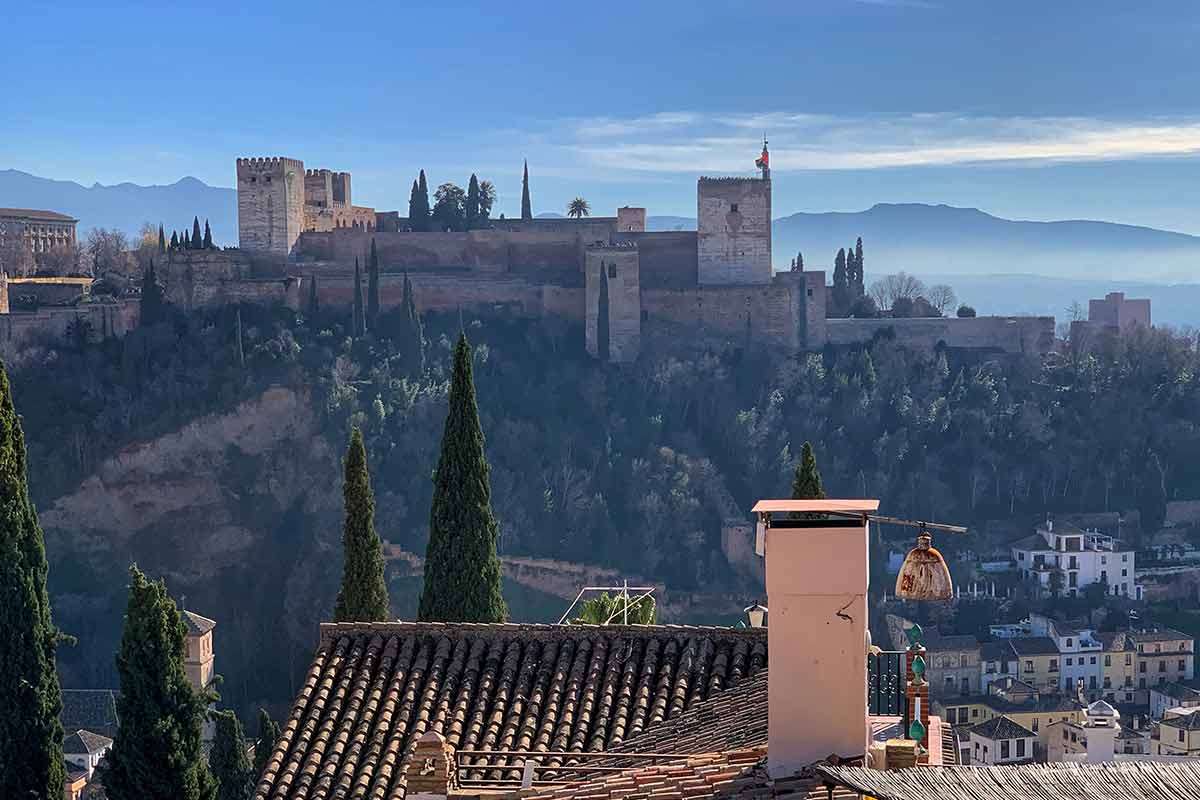 Are you looking for the best Granada itinerary to get ideas for your trip?
Located at the foothills of the Sierra Nevada mountains, Granada is one of the most popular cities in Andalusia, and for good reason.
Tourists love to visit because it offers a variety of experiences and it has a rich history, which is deeply rooted in Moorish culture.
Below, we'll share some of the best spots to visit during any 2 days in Granada! That way, you can be sure your precious time is well spent.
2 Days in Granada itinerary
No matter what the purpose of your trip is, we understand that your plans for traveling to Granada may change before or during your trip.
However, we're confident our itinerary will inspire you to travel soon.
Is Granada Worth Visiting?
With its hidden gardens, narrow streets, and gastronomy, Granada has a way to surprise visitors, so there are many reasons why it's worth a visit.
Here are a few of the most compelling ones:
Sublime Moorish architecture: Moorish culture is one of Granada's defining characteristics. As such, there are plenty of amazing examples of Moorish architecture, including the Alhambra.
Locals are friendly: People in Granada are super welcoming and it's not uncommon for them to treat strangers like family. Don't be surprised if you get a bit of special treatment.
Plenty of outdoor activities to enjoy: Granada is the kind of place where you can go to the beach and then go skiing on the same day. You can visit hot springs, lakes, go hiking, and much more.
How Many Days Should I Spend in Granada?
Based on our Andalusia itinerary (7 days), which takes you through several incredible cities, we suggest spending at least 2 days in Granada.
Today's itinerary will show you how much you can do in that timeframe.
You will be able to enjoy your time in the city and though there's a lot to do, this itinerary is a great starting point for you to make plans.
Things to Do in Granada
As we said before, Granada is full of surprises, which is probably why so many people choose it as their destination.
Whether you spend 3 weeks or 2 days in Granada, you simply can't miss these places that we suggest below! Let's start with the most popular:
The Alhambra
The first thing you should do in Granada is visit the Alhambra Palace. We recommend you book well in advance and try to get the first available slot to avoid crowds.
This is one of the most visited monuments in Spain and one of the best examples of Moorish architecture. It's truly incredible, so don't miss it.
If you can't get to the Alhambra, Generalife is a good alternative and it's easier to book a visit. It's connected to the palace and it's also beautiful!
Puerta de Elvira
Also known as "Arco de Elvira", this used to be the main access gate to the city back when it was Muslim-dominated. It was built in the 11th century and it has gone through many transformations in its long history.
In 1896, the Puerta de Elvira was declared a National Historic-Artistic Monument. Though there's not much to see, it's an important landmark to visit. You'll have great picture opportunities!
Albaicín
The Albaicín is one of the most romantic areas in the city. This used to be a Muslim quarter and it's where the ruling family used to live before the Alhambra was built.
You can visit the Palacio de Dar al-Horra, their home, which is still standing. Overall, you'll enjoy walking through the narrow streets and exploring the open plazas.
Hammam Spa
If you want a truly relaxing experience, you should make a stop at the Hammam Al Andalus. This is a traditional Moorish bath that provides an authentic experience.
You will be able to relax like never before! The baths are inspired by Arabic architecture and they are designed to resemble the old public baths of the Alhambra.
There are different treatments you can choose from, such as relaxing hot stone massages, delicate foam scrubs, and more.
Sacromonte Neighborhood
The Sacromonte neighborhood is north of the Alhambra and it's one of the most picturesque spots in the city.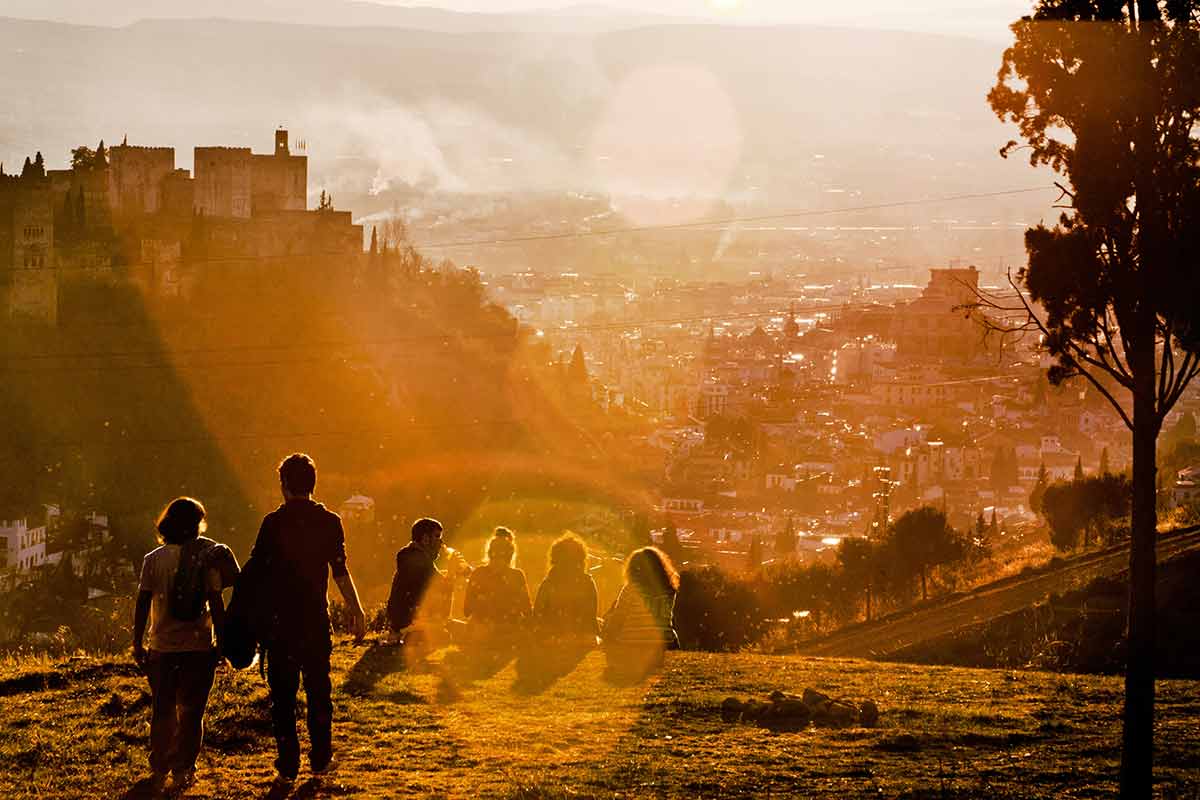 It has a dark history, though, because it's where the gypsies settled when they weren't allowed in the city. The neighborhood is quite small but the main street is vibrant!
You'll have fun walking around and if you want to learn more about the history, you can head to the museum.
The Royal Chapel and Cathedral
The Royal Chapel is a part of the complex where the Granada Cathedral is located. The Cathedral was built on Queen Isabella's orders in 1523.
You can visit both places and tickets only cost €5 each. The Royal Chapel is a church and funerary chapel built in Isabelline style.
The Granada Cathedral is where the Great Mosque used to be after 600 years of Muslim domination. The construction lasted 181 years and it's an exquisite building, so it's definitely worth visiting.
Granada Travel Tips
Granada is one of the most charming cities in Andalusia and there are a few things you shouldn't miss.
⤵️ Below are some helpful travel tips for a more fulfilling experience:
Catch a flamenco show in the Sacromonte neighborhood. They're traditionally performed by Romani people, so it's a mix of flamenco and Moorish dance.
You need to try tapas while you're in Granada! Many bars around the city offer free tapas with any drink you purchase, so you must take advantage of that deal.
If you decide to rent a car in Andalusia you'll find it easier to travel outside of the city and visit other towns in Andalusia.
If you love beer, why not bathe in it? The Beer Spa makes for a great story. You'll be able to get into a giant beer barrel while tasting Alhambra beer. You can also get other treatments!
Try to carry cash and items of value with you at all time in a front or inside pocket, you'll find Pacsafe make some great bags/backpacks for traveling around with valuables.
Finding the best souvenirs is super easy in Alcaicería. It offers a recreation of the original main bazaar of the city, which was destroyed by fire in 1843.
Remember to get your FREE travel insurance quote from SafetyWing to receive fully comprehensive support when it comes to unforeseen travel complications.
Go to a nice teahouse. Voracious tea drinkers will enjoy Granada's teahouses and they're charming spots to take a break during the day.
Though there are many more things to do in Granada (and see), this is designed to whet your appetite and give you a great starting point!
Granada Itinerary (2 days)
Our Granada itinerary is the perfect way to get to know the city and make the most of your time there.
As a part of our Andalusia itinerary, it offers a complete experience!
This is one of the most fascinating places you'll ever visit and the things on our list are just the start. Meaning, you'll definitely want to visit again!
All we ask is that you aim to follow some of our sustainable travel tips to ensure that your trip has a positive impact on the local environment.
---
This post contains affiliate links, meaning, if you click through and make a purchase or sign up for a program, we may earn a commission. This is at no additional cost to you.