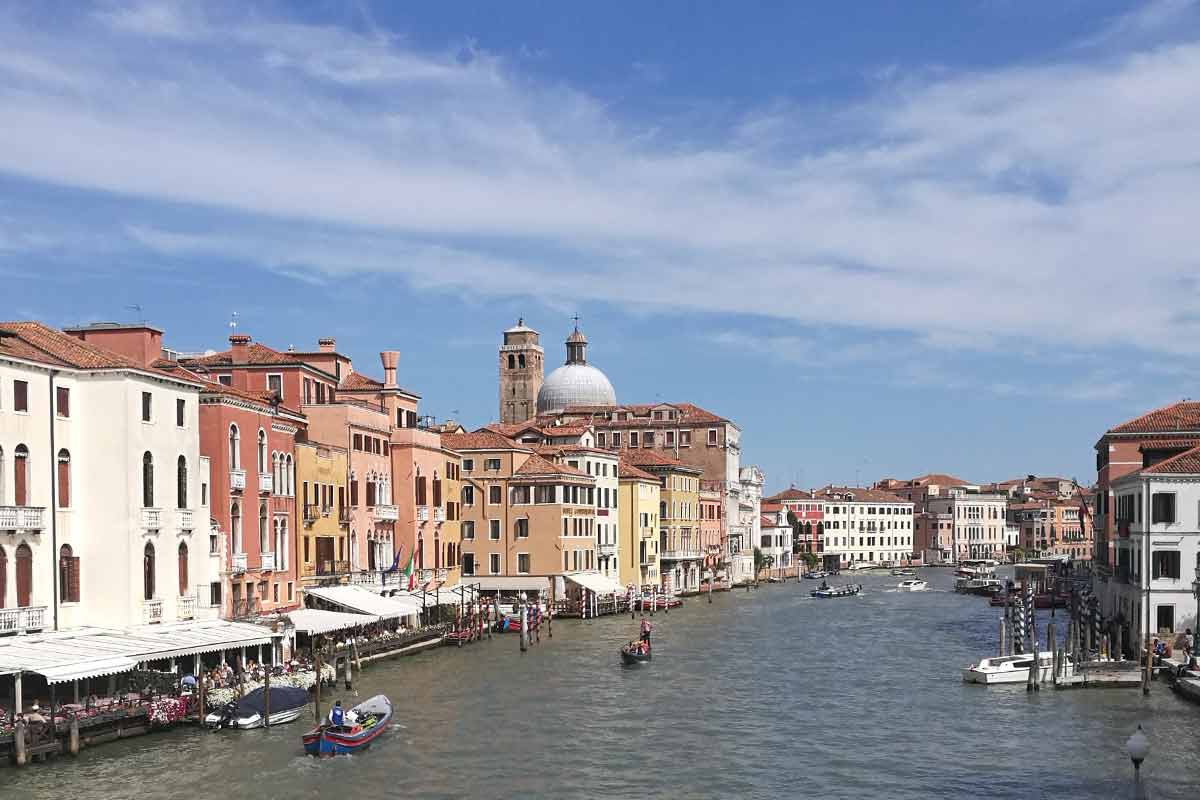 Welcome to this guide on getting from Florence to Venice.
Venice is an easy trip to plan from Florence, and spending time in both cities will only make you fall in love with Italy even more!
Venice is the capital city of the Veneto region, located in northeast Italy.
Known for its bridges crossing tens of canals dividing the unique urban landscape, Venice was built on more than 100 small islands.
This made of this city one of the most beautiful in the world, visited by thousands of people, all year round!
The amount of things to do and see is huge and, if planned wisely, even the most important attractions can be visited in just one day.
Florence to Venice
As you know, Venice is a must-visit city and not to be missed, however, we'll remind you of the reasons why Venice is worth visiting below.
If you are already in Florence be sure to read our 2 days in Florence itinerary before you take the road to Venice.
Is Venice worth visiting?
Are you're looking for more places to visit from Florence because you already visited cities like Siena, San Gimignano, or Volterra?
If so, then taking a train or driving to Venice is a marvelous idea, and, you can even arrange this trip with little or no plan!
See some of the reasons to visit Venice below:
Venice is a treasure chest of historical, architectural, and artistic gems. Just by heading out from the Venice Santa Lucia station, you feel blown away by the beauty of this city. The history of Venice goes back to the Middle Ages and the Serenissima Republic days when the political and economical influence of the city was immense. During those centuries, the city became a meeting point for people and cultures from all the countries facing the Mediterranean Sea, as well as from the Far East. The rich historical and architectural heritage you can admire is a testimony of the city's glorious past.
In Venice there's so much to see and do. The most iconic landmarks are just a few meters away from each other. In St. Mark's Square, you can visit the St. Mark's Basilica, the bell tower, and Doge's Palace. In only 10 minute walk down the Merceria street from St. Mark's Square, you can reach the Rialto Bridge from where to enjoy one of the best views over the Grand Canal, and visit the nearby market.
Even if spending just one day in Venice, don't miss the chance to try its delicious cuisine. This is famous for fish and seafood appetizers and pasta dishes. There are options for meat-eaters, vegetarians, and vegans too! We recommend trying the 'cicchetti', a tapas style type of snack you can find in small restaurants and bars owned by local Venetians. In Venice, you'll find a great selection of 'trattorie' and 'osterie' to try all the best of its food scene.
Despite the modes of transport mentioned in this guide. If you're in a rush and you really don't want to think or deal with public transport (or drive) you always can opt for a private transfer that will take you directly to Florence from Venice in a high class a Mercedes vehicle.
How far is Venice from Florence?
Florence, the capital city of Tuscany's region, is 270 kilometers away from Venice. It's possible to get to Venice by train or by car.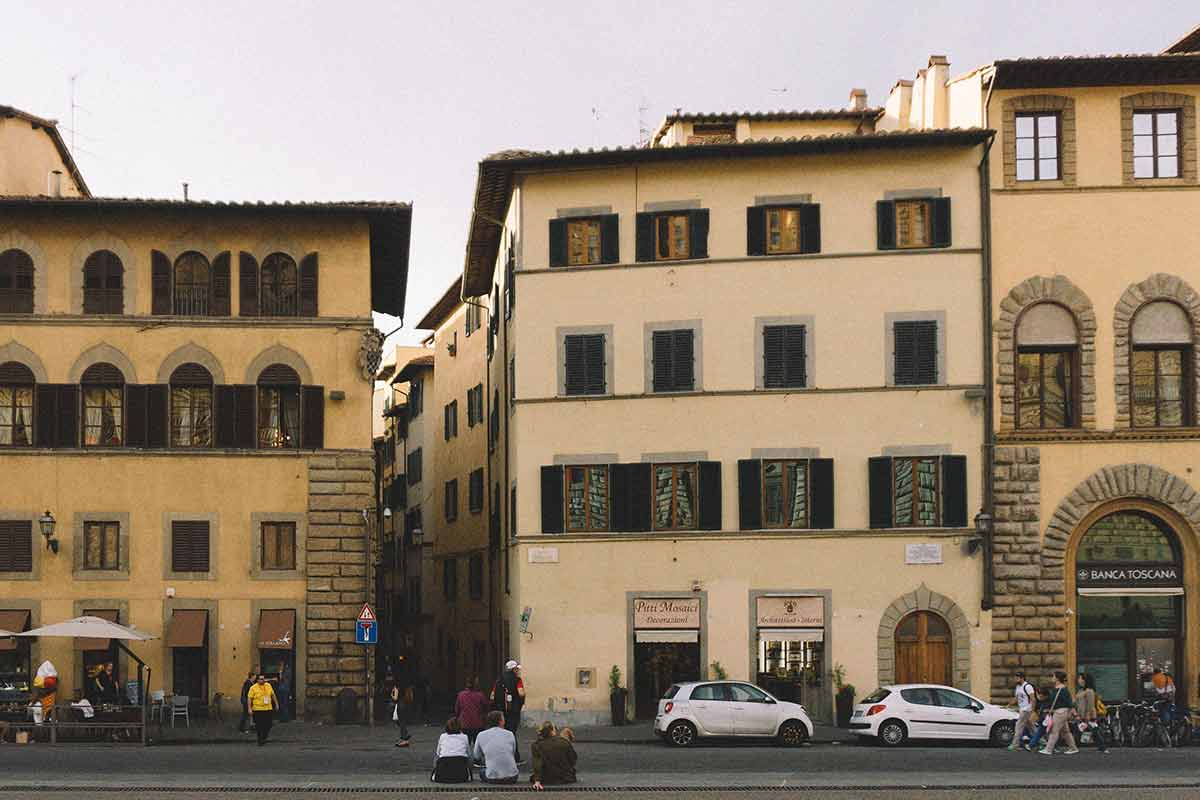 If traveling by train, it can take less than 4 hours and 30 minutes.
The train station in Florence is called Santa Maria Novella, and the name of the one where you'll arrive to in Venice is Venezia Santa Lucia.
If you decide to hire a car, it's going to take 3 hours to get to Venice.
We recommend staying one night in Venice to have time to enjoy Venice when traveling from Florence. Then travel back to Florence the day after (or to your next Italian destination).
For an authentic stay fairly close to Rialto Bridge Palazzo Bembo offers idyllic views over the Grand Canal without breaking the bank.
How to get from Florence to Venice
Booking accommodation in advance (at least 2 months before your trip!) in such a popular destination like Venice is imperative if you want to find a good place to spend your stay.
These are some hotels we recommend:
UNAHOTELS Ala Venezia – Located just 10 minutes walk from St. Mark's Square. The rooms overlook a canal or a square, so you can get immersed in the real Venetian lifestyle. This hotel is located inside an 18th-century palace that features Venetian furniture in all its double rooms. It's the perfect place for couples looking for a romantic and relaxing stay.
Palazzo Veneziano – A 4-star hotel is based in the Dorsoduro district, far from most of the crowds. There are economy, classic and superior double rooms. They feature parquet floors and marble bathrooms, some of them have a spa bath.
Hotel L'Orologio – Located in the lively San Polo neighbourhood, close to the Rialto Bridge and Campo San Polo. It's the ideal location to visit the main attractions of the city and get access to the best bacari and restaurants.
How to get from Florence to Venice
Now, it's time to take a deeper look at all the options you have to travel from Florence to Venice and help you with making an informed decision about the best one for your travel plans.
Train from Florence to Venice
If you're considering traveling to Venice by train from Florence, then there are a couple of train options you can get.
Trenitalia is the main website from where you can check and book your train tickets online or in any railway station ticket office.
With Trenitalia you can either choose the Frecciarossa high-speed trains or the regional trains. The Frecciarossa are fast and comfortable trains, but more importantly, these are direct trains.
The sooner you book your Frecciarossa train ticket, the better, as prices are definitely higher than for regional ones. If you want to save as much as possible and have enough time available to spend on the road, then you can also take regional trains.
In this case, there are 1 or 2 trains you'll have to change to get to your destination. The other option is to travel with Italo for a fast and enjoyable journey on a high-speed train.
As for the Frecciarossa trains, we advise looking at your tickets as soon as possible. Check both websites to find the best deal!
Driving from Florence to Venice
If you prefer to rent a car and drive to Venice, then it will certainly take you less time than getting into any train. The time that it will take you is around 3 hours or less.
It's suggested to use a GPS navigator to check if you may encounter any traffic jams or car accidents along the way.
The quick way to get to Venice by car from Florence is by taking the A1/E35 motorway for the longest stretch of road. This is also called the Autostrada del Sole.
After this one, you'll take for a shorter time the A14 called Autostrada Adriatica, then the A13 connecting Bologna to Padua, and finally the A4 towards Venice.
If you want to check the tolls you need to pay for the motorways, you can look at the Autostrade website for more info.
When you'll get to Venice you can either park in Mestre, the nearest mainland town, where most of the people park their car, or on the island of Tronchetto.
Here there's a big car park, and you'll notice directions to it when crossing the Liberty Bridge.
Bus from Florence to Venice
There's an additional option if you're traveling on a budget and like spending time on the road, which is getting to Venice by bus.
You can travel from Florence to Venice by Flixbus leaving from Villa Costanza Tram T1 and arriving at Venezia Mestre railway station or Tronchetto, depending on the ticket you select when booking online.
There is no change to do during your trips that will approximately last between 3 hours and 20 minutes (the faster option) to 4 hours and 40 minutes (the longest option).
The cost of your Flixbus ticket is around 10 euro one way. These buses are quite comfortable, and you can access free Wi-Fi, plugs to charge your electronic devices, toilette, and air-conditioning.
Venice Full-day Guided bus trip
If you don't want to think how to get from Florence to Venice by public transport and not planning to hire a car to drive in Italy, then you should join a guided tour.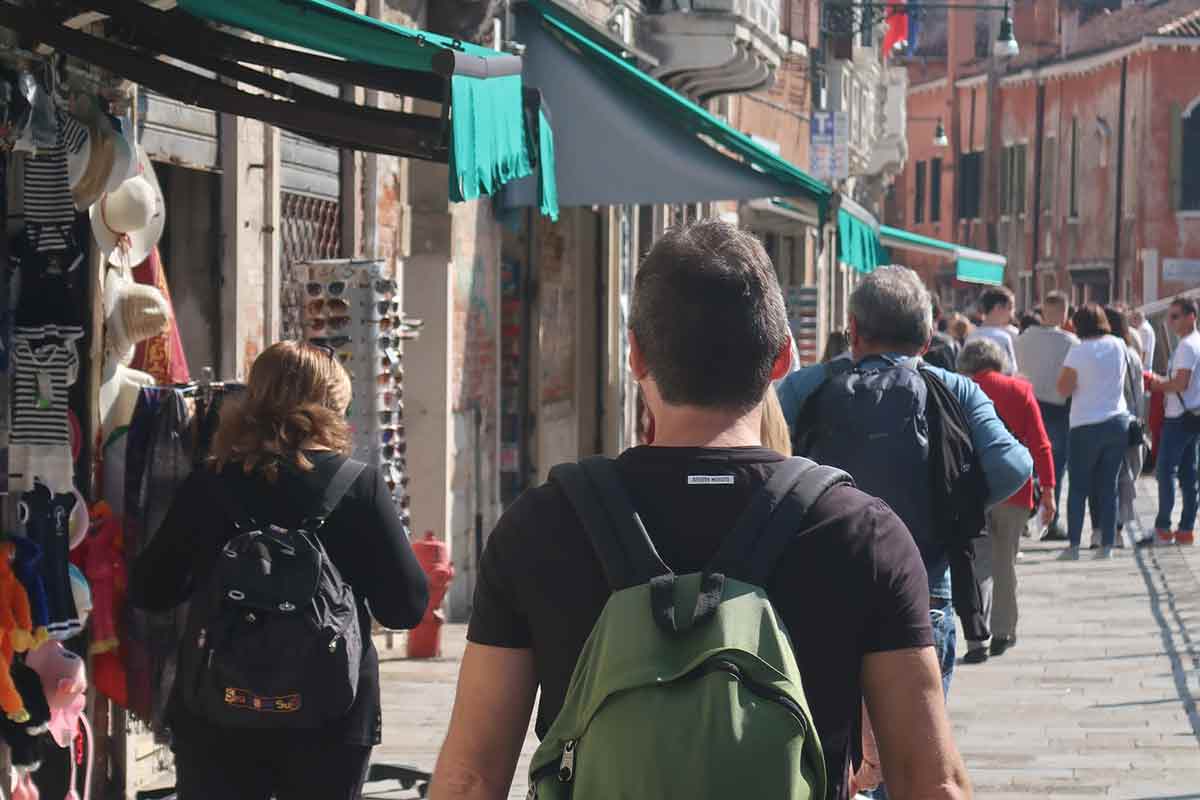 This full day Venice guided bus trip is perfect for you since round transportation from Florence to Venice is included in the price.
A professional guide will also be with you for the whole time, sharing insightful information and curiosities about Venice and Florence. It's also available the bilingual live commentary on the coach (English and Spanish) and the Venice audio guide, if requested in advance.
Taking part in this tour it's a great opportunity to not think about anything, but only enjoy the ride from the beautiful Florence to the Lagoon city in the Veneto region.
Cross the unique Tuscan countryside landscape and take pictures of the picturesque hills in Emilia Romagna before arriving in Venice.
Florence to Venice FAQs
Getting from Florence to Venice
Now you know how to get from Florence to Venice! If you can plan your trip in advance, you'll get the high-speed train for a decent price.
If you are more into traveling low-cost, and willing to spend some hours on the road, then the bus is a valid alternative.
Either way, these uncomplicated solutions should meet your needs.
With all these options, you won't have to think twice about traveling to Venice, which is a destination we suggest visiting from Florence.
Are you feeling inspired by this road trip? Take a look at our 2 weeks in Italy itinerary to get more ideas on what to do and where to go.
---
This post contains affiliate links, meaning, if you click through and make a purchase or sign up for a program, we may earn a commission. This is at no additional cost to you.