Are you wondering where all the best beaches in Calabria are?
Calabria is the southernmost region of the Italian peninsula and is still an underrated region and that comes with its perks!
In fact, Calabria boasts around 800 kilometers of coastline characterized by solitary bays, spectacular cliffs and white sandy beaches.
Calabria Beaches
We'd even go as far as to say that this region has nothing to envy when it comes to the lights of Salento in Puglia or the Amalfi Coast in Campania!
Keep reading to learn more about some of the very best Calabrian beaches to visit that will make you fall in love with this incredible region.
Where is Calabria?
Calabria is located on the toe of the Italian boat, sharing its borders with Basilicata north, the Tyrrhenian Sea west and the Ionian Sea west.
Best beaches in Calabria map: to check the best beach towns in Calabria. Some of our favorite destinations are: Tropea, Pizzo Calabro, Capo Vaticano, Riaci and Vibo Marina.
A great spot to spend your vacations is Tropea, this old town boasts a vast selection of accommodation types with Hotel Colomba D'Oro being one of our favorites, and it's one of the best places in Calabria for its restaurants.
Calabria is only a few kilometers away from Sicily and it's separated by it by the Messina Strait.
The capital city is Catanzaro and other major cities are Reggio Calabria, the largest city, Cosenza, Crotone, Vibo Valentia and Lamezia Terme, where the international airport is based.
Some tourists are concerned about safety in Calabria since it is considered the poorest region in Italy, but tourism is an emerging sector, supporting its development and growth. It is definitely safe for a visit with friends or family.
Is Calabria Worth Visiting for its Beaches?
The short answer is yes!
Calabria is worth visiting for its unspoiled and still little-known beaches. What makes Calabria beaches some of the best ones in the Bel Paese is the diversity of the two coastlines (the Tyrrhenian and Ionian ones).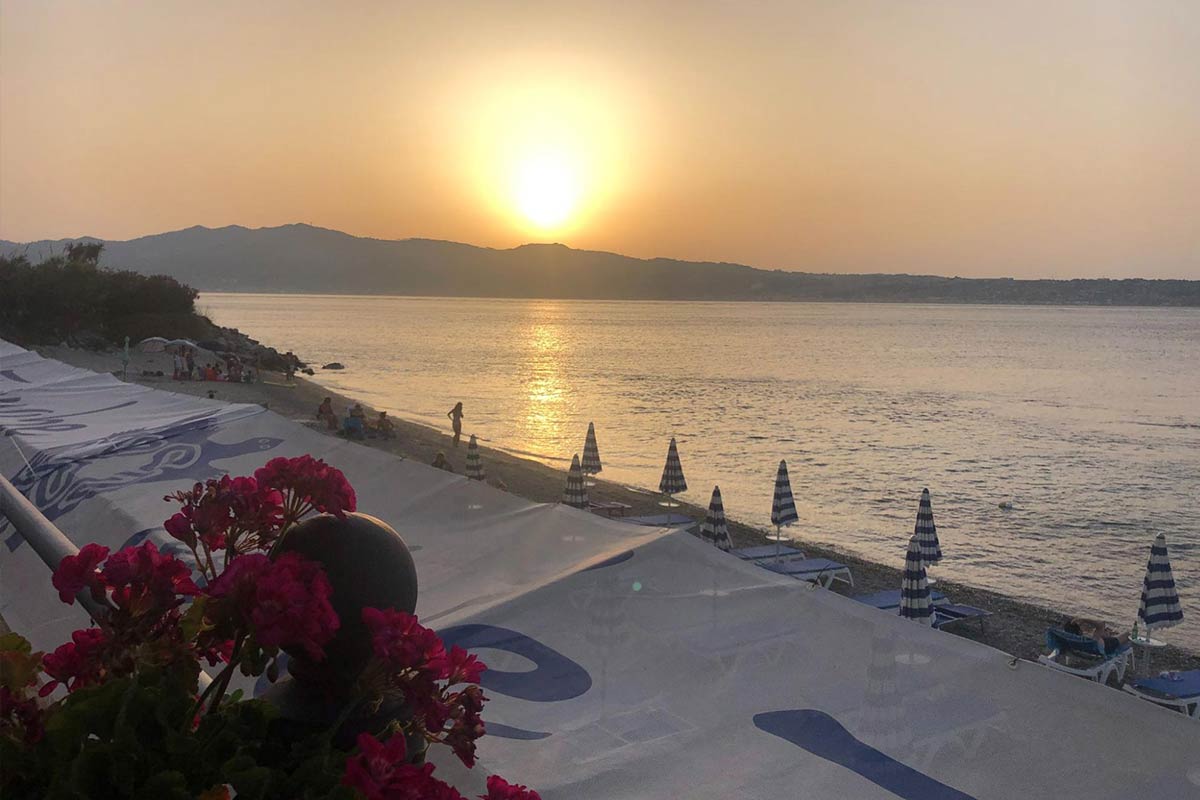 The western side is characterized by high cliffs, marine terraces, hidden caves to reach by small boats and bays lapped by a turquoise sea.
The eastern side is famous for its long beaches of white or golden sand that slope gently into a crystalline sea.
Even in the summer months like in July and August, in the most touristic ones, it's quite easy to find a place where to spend the day, which can be difficult to find during this time of the year on the Amalfi Coast.
Best Sandy beaches in Calabria
With this list, you can guarantee that while visiting Calabria you are spending your time at some of the best beaches in the region.
Tropea Beach
One of the best Tropea Beach is called Marina dell'Isola. This is one of the most beautiful beaches in Calabria and in Italy.
It's such a unique beach for its white sand and the crystalline sea and you can reach it from the historical city center of Tropea.
From this beach, you can enjoy a fabulous view of the Santa Maria dell'Isola church too. You'll just have to walk down the narrow alleys and stairways and in a matter of minutes you'll be in paradise. We also recommend visiting La Rotonda beach with its sandy white beach and incredibly clear waters.
Beyond the Santa Maria islet, you can find the divers' much-loved Linguata beach, well-known for its seabeds and abundance of marine life and that you shouldn't miss if you like diving or snorkeling.
For those looking for a little more of an adventure, it is definitely worth checking out this day trip to the Aeolian Islands from Tropea while here too.
Zambrone Beach
The Zambrone coastline (in the province of Vibo Valentia) is a kaleidoscope of beaches that change appearance at a distance of a few meters.
In fact, you'll find both white beaches and granite cliffs, up to small hidden bays. All of them are perfect to relax or indulge in water sports.
With easy access to many beach hotels here, we suggest getting there early in the morning to find the best spot. You reach them by boat or walking along paths immersed in the typical scents of Mediterranean scrub.
The unmissable beach in Zambrone is the Paradiso del Sub, which you can get to by small boats, pedal boats and canoes or by following a specific path (signs with directions can be found from the Zambrone railway station).
Grotticelle
Among the best Calabria beaches of Capo Vaticano, the enchanting Grotticelle beach is certainly one to not miss for its strong chromatic impact. It's made of three contiguous inlets, connected to each other.
The sand is white, and the sea is intense turquoise. The shallow waters and the rocks that emerge from the shore create some natural pools where you can easily spend hours. There are parts of the beach that are equipped and others that have free access.
They're particularly crowded in summer, so it's recommended to arrive early. Reach the last inlet on the right for a more intimate and quiet experience.
Michelino Beach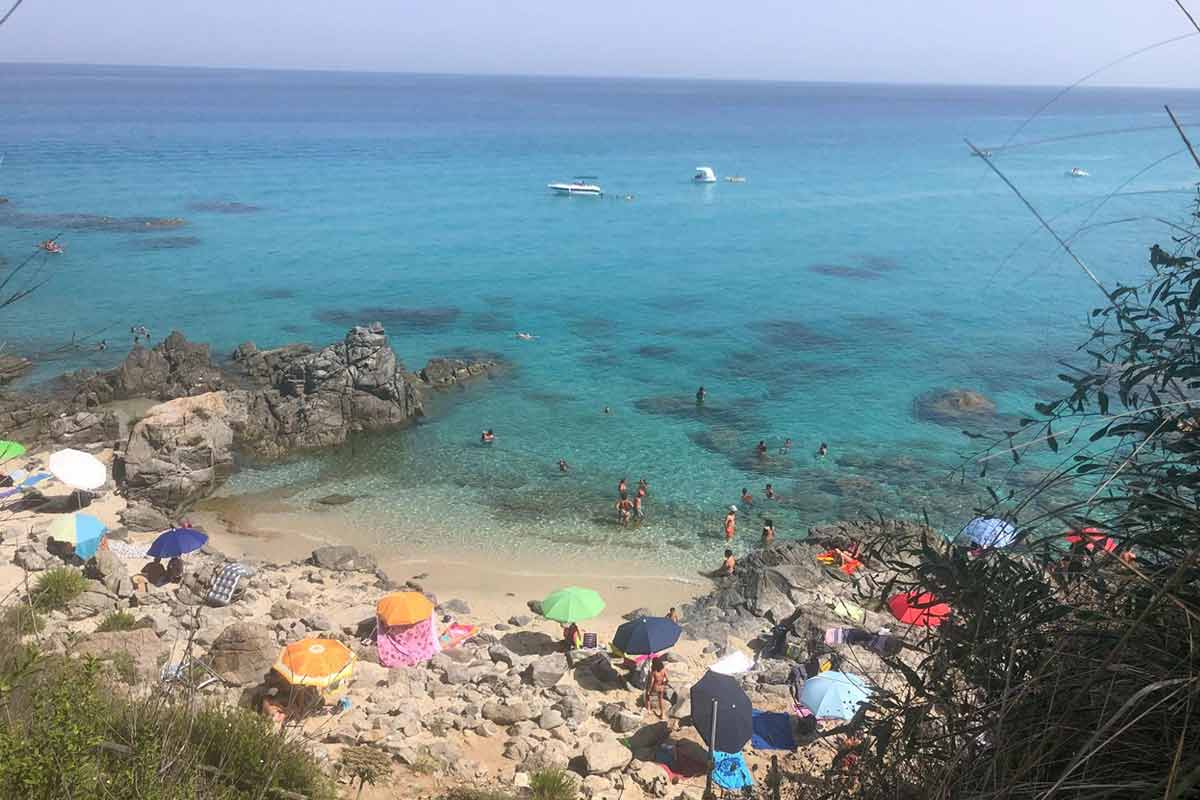 In Parghelia, under the municipality that borders Tropea, you can find the wild Michelino beach. This Calabria beach has very fine sand, a turquoise sea and a suggestive cliff.
It's definitely one of the most uncontaminated beaches that happen to be free too! It's perfect for those who are seeking deep contact with nature and a secluded, quiet space to unwind. It can only be reached on foot along a long and steep staircase overlooking the sea.
Michelino beach is a fantastic beach to visit if you're based on the Coast of Gods and it's only a few kilometers away from Tropea.
Scilla
Scilla is located in the so-called Purple Coast, in the province of Reggio Calabria. You can both spend some time in the Marina Grande beach which boasts crystalline waters and beautiful seabeds or the one in Chianalea.
Why not stay at Casato Deluxe for a place on the beach? This is one of the most beautiful villages in Italy, also called 'little Venice' because of the small fishermen's houses lapped by the crystalline sea and picturesque alleys.
Here you can also treat well your palate by having a meal at one of the many seafood restaurants, renowned for the freshness of the products.
When in Scilla, remember to pay a visit to the Ruffo Castle, where it's possible to enjoy breathtaking views of the Aeolian Islands and the Sicilian coast.
Riaci Bay
The beach on Riaci Bay is one of the most celebrated Calabrian beaches and is not far from Tropea.
It's a popular one for the landscape dominated by high limestone rock walls and by the Scoglio Grande (big rock), which emerges from the waters very close to the shore.
The beach has white fine sand, the sea is crystal clear and seabeds are just waiting to be explored with fins and masks.
There is also a wreck of a 1917 merchant ship just in front of the beach that you can see whilst snorkeling around! Riaci beach has both free access areas and serviced ones if you wish to rent a sunbed. Just be sure to carry some water resistant sunscreen along with you to protect yourself while sunbathing.
Calabria Beaches FAQs
Best Beaches in Calabria
With this post, you should have gotten a much better idea of some of the best beaches in Calabria that you can visit while exploring the region.
If you want to have total freedom, why not try hiring a car while you're here? Or, move around by train so you can explore as many beaches as possible.
There are more beaches in Calabria that are worth visiting, especially on this side of the region, as well as on the Ionian one around the Crotone province
If you need more inspiration on what to do and see during your time in Calabria, don't forget to check out our Calabria itinerary which is full of ideas.
---
Dear responsible traveler: This post may contain affiliate links, which means, if you click through and make a purchase, book a tour or a hotel, we may earn a small commission. This is at no additional cost to you. Your support means a lot and helps us to maintain the quality of this site.