Are you thinking of visiting Bassano del Grappa in Northern Italy?
Bassano del Grappa is a picturesque town wedged in the Pedemontana hills, facing the beautiful Alps and flowing through the Brenta river.
The town is located in the Veneto region, and makes the perfect day trip for visitors from cities like Venice, Padua, or Treviso.
Bassano del Grappa
Here you can read our guide which not only shares five things to do in Bassano del Grappa but also offers some useful information to make the most of a trip to this (still little-known) gem in the Veneto region.
Is Bassano del Grappa worth visiting?
If you are already enjoying all that Venice has to offer, then why would you want to visit a small town like Bassano del Grappa?
People visit Bassano del Grappa for its enchanted medieval atmosphere, the romantic narrow streets full of bars and ceramics, and small shops selling local products.
The food scene here is known throughout the region. Its gastronomic tradition is connected to products such as asparagus, cod, and the famous grappa, the renowned Italian spirit made from grapes. You can even dine with locals as part of a unique tour experience.
Spending a day in Bassano will take on a journey through time. The history of this town is closely tied up to the memories of the Great War. There are entire museums and landmarks dedicated to it, but one thing you can't miss is a visit to the Ponte degli Alpini.
Bassano del Grappa is well-connected by public transport from other cities in Veneto and Trentino Alto Adige regions. If you're spending 2 days in Venice, you can take a direct train from Santa Lucia railway station and get to Bassano in less than one hour and a half!
Also, from Bassano del Grappa you can easily reach other medieval walled cities such as Asolo, Cittadella and Castelfranco Veneto.
If those reasons were not enough for you to get you excited about what's on offer when you get here, then keep reading this guide to learn what things we recommend you see and do in Bassano del Grappa.
Getting from Venice to Bassano del Grappa
If you're visiting as part of your Venice itinerary then getting to Bassano del Grappa is simple as there are daily direct trains from Venice.
It takes one hour and 20 minutes to arrive in Bassano from Venice Santa Lucia railway station. You can also travel from Padua and get to Bassano in one hour with a direct train and from Vicenza by bus taking the 'linea 5'.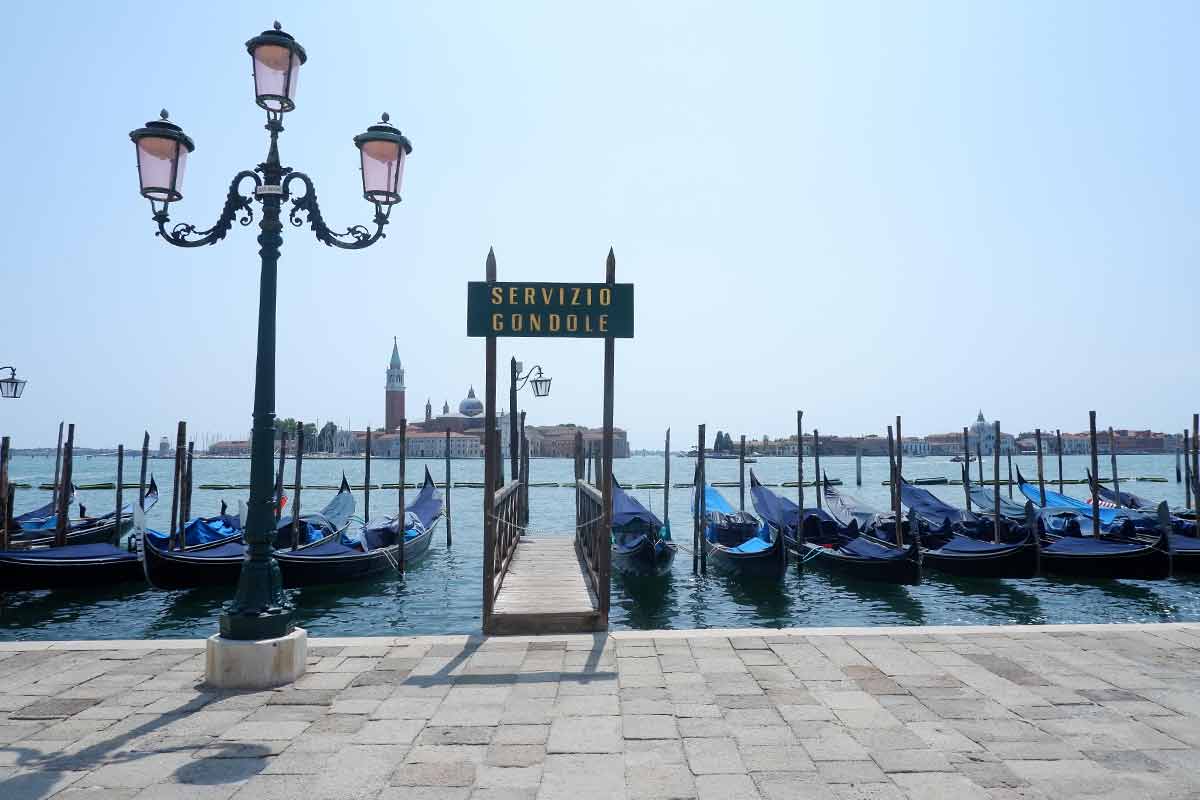 From Bassano del Grappa there are trains leaving for Trento, the capital city of Trentino Alto Adige, ideal stop for anyone interested in exploring nearby regions of Veneto and extending with a stay in the Alps.
If you're traveling by car from Venice, it's a one hour and ten minutes drive. From Mestre, take the motorway A4/E70 towards Bologna/Milan.
Then the A31 motorway and Pedemontana Superstrada towards Bassano del Grappa.
If traveling by air, the closest airports are (in this order) Treviso Venice airport, Venice, and Verona. From the airports, you can rent a car and drive to Bassano del Grappa.
Things to do in Bassano del Grappa
Bassano del Grappa boasts fantastic panoramic views over the Brenta river and the Alps, and there's also quite a lot to do and see for a day-tripper or even in a couple of days to explore surrounding areas!
The good news is that the most must-see attractions are all located in the town center or at a walkable distance from it.
Ponte Vecchio
The first unmissable stop is the Ponte Vecchio or 'Degli Alpini' bridge. This is a covered wooden pontoon bridge located at the point where the Brenta river narrows.
For centuries, it's been the symbol of Bassano del Grappa. Following the flooding of the river in 1567, and the damage caused by wars, it was destroyed and rebuilt several times.
The architect Andrea Palladio designed a new reconstruction but kept the original structure adding some new cutting-edge structural solutions.
In February 1945, the bridge played an important role in the defense of the city during the Second World War.
In order to protect the town, the partisans blew up the structure, which was then rebuilt by the Alpini (Italian Army's mountain infantry) and inaugurated in 1948.
By walking on the bridge, you can enjoy a scenic view of the mountains, the river Brenta and the whole historical city center from which stands out, the Ezzelini Castle.
Explore the Historical Centre
Bassano del Grappa is a medieval walled city you can explore in a couple of hours simply by walking around its historical city center.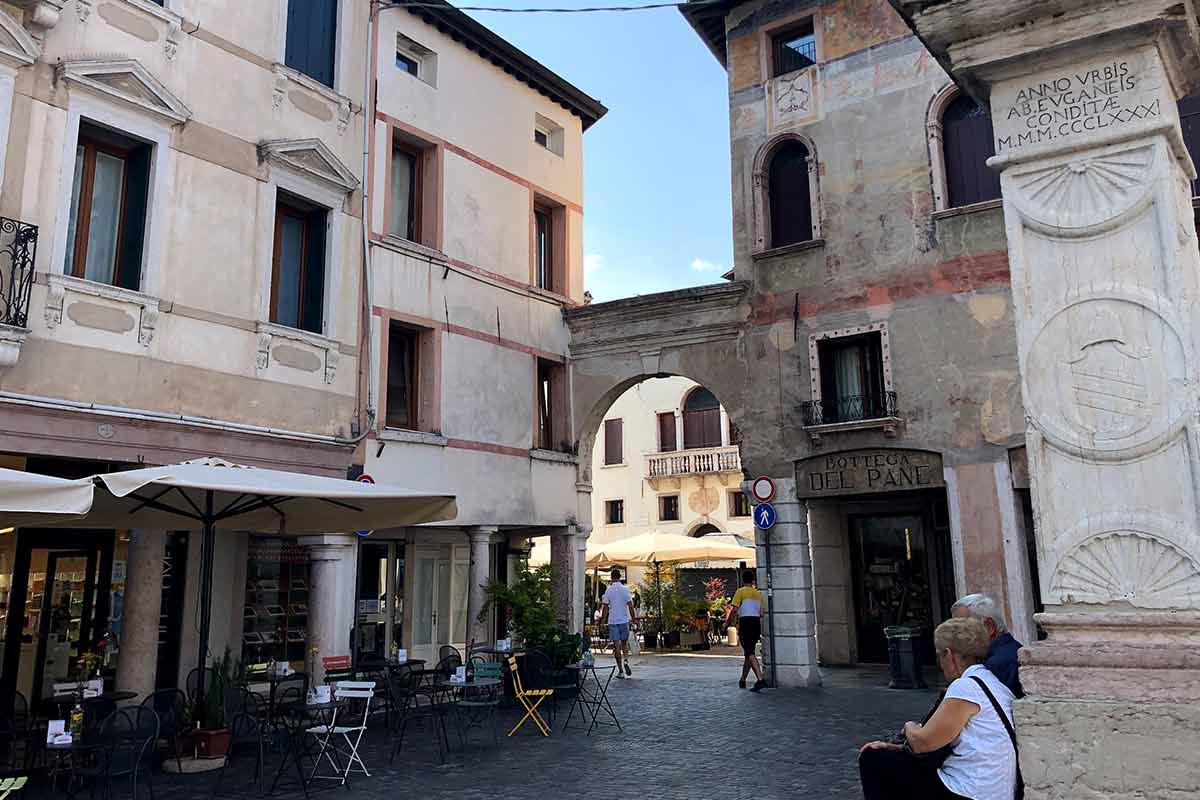 Start your itinerary from Piazza Garibaldi where you can climb the fourteenth-century civic tower.
Then move to the nearby Piazza Libertà which dates back to 1308 and where the Loggia dei Podestà and Palazzo del Comune are located.
Here you can stay at the Al Castello to get a taste of the vibrant nightlife and join locals meeting up on a Saturday evening for aperitivo.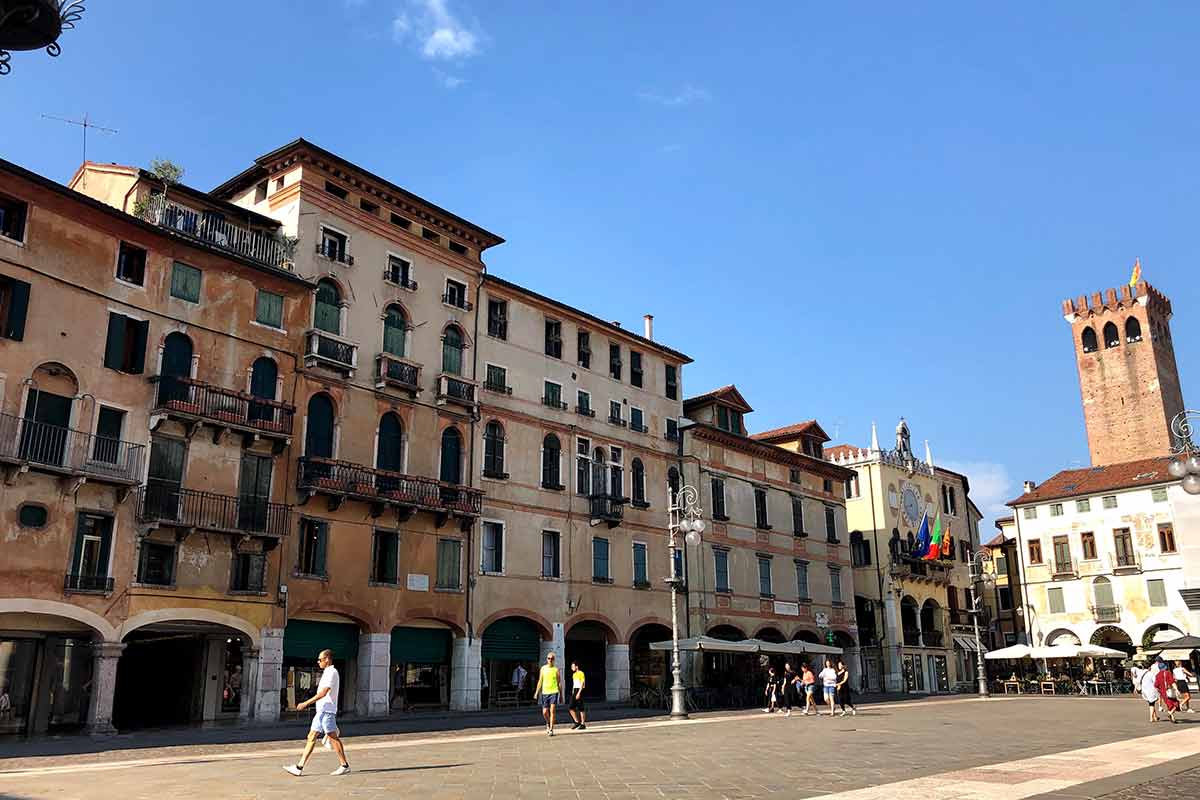 To continue your tour around Bassano, head towards the two remaining medieval towers called Porta delle Grazie and Porta Dieda with the lion sculpture, a symbol of loyalty to the Venetian Republic.
To learn more about Bassano's history, you can visit the Museo Civico (town museum) or the Sturm palace, where a ceramics and printing museum is based.
Even if you don't want to visit the Sturm palace, go just to admire the belvedere view from its terrace over the Brenta river and Ponte Vecchio.
Poli Grappa museum
The town is the "capital" of the famous distillate called Grappa. Just in front of the Old Bridge, you can spot the Poli Grappa Museum, inside the Palazzo delle Teste.
Here you can learn more about grappa, how it's produced, and sample a selection of it too.
The Poli family from Bassano decided to create this museum to appreciate the special distillate in all its forms.
Inside the museum, you can move around different rooms with unique illustration collections and documents, all related to the spirit's origins.
The interactive part of the museum is the "olfactometers", an installation that allows visitors to smell twenty different types of distillate.
To visit the museum, there's an admission fee to pay of 3 euro per person for a tour and 5 distillate tastings.
Ezzelini castle
The Ezzelini castle is a must-see landmark in Bassano del Grappa. It's a medieval castle full of hidden passageways and a 'walkable' walkway too.
To enjoy unique panoramic views of the town and the mountains, head towards the small stairs on the right side of the castle's entrance and access the walkaway.
You can also visit the internal courtyard and the church called Duomo di Santa Maria in Colle, only open on Sunday mornings.
Once here, you'll notice a parking space that, during the Middle Age, was the market and gathering place.
Walk till the end of the parking space in front of the castle to get to one of the most loved spots by locals.
From here you can take great pictures of the bridge and the river and enjoy a relaxing sunset over the town.
Hemingway Museum
To learn more about Bassano's past century history and the role played by the town during World War I, you could visit the Hemingway and the Great War museum situated in Villa Ca' Erizzo Luca.
From the Old Bridgehead towards the north, and on the eastern side of the river you'll spot the magnificent villa.
During World War I, the American Red Cross ambulances were based here and that's where the writer and journalist Ernest Hemingway stayed for some time too.
The villa's owner gathered an incredible collection of documents and photographs of the war and the writer.
The admission fee is 7 euro for adults and 5 euro for children under the age of 12, adults over 65, and students under 26 years of age.
Bassano del Grappa Travel Tips
See our list of travel tips to take with you:
The landmarks in Bassano we have suggested are designed to give you access to some of the town's most popular sites!
Remember to get your FREE travel insurance quote from SafetyWing to receive fully comprehensive support when it comes to unforeseen travel complications.
Why not book at room at places such as: Terraglio Rooms , Le 33 or Hotel Al Castello if you're still looking for places to stay?
Remember if you prefer not to drive from here, Bassano del Grappa is connected by trains to and from Padua/Venice.
Check out the Trenitalia website to see how all of the train stations are connected if you'll be using public transport.
Try to carry cash and items of value with you at all time in a front or inside pocket, you'll find Pacsafe make some great bags/backpacks for traveling around with valuables.
Although you shouldn't need to abide by any specific rules for safety in Bassano, never let your guard down. The town has little crime towards tourists, so imagine yourself in a safe space whilst here.
Visiting Bassano del Grappa
Now you should know something more about Bassano del Grappa and why it's worth finding some time when in Veneto to explore it.
You can visit it in just one day and travel by train or car from Venice or any other Veneto city.
The small town keeps fascinating visitors from all over the world for its unique views from the Ponte Vecchio, the Alps, and the river.
Take a look at our 2 weeks in Italy itinerary if you want to get some more inspiration and learn what else you can see during your time in Italy.
---
This post contains affiliate links, meaning, if you click through and make a purchase or sign up for a program, we may earn a commission. This is at no additional cost to you.