Welcome to this 3 days in Havana itinerary.
Havana is one of the world's most authentic cities that you could visit.
The city is truly one of a kind due to its varied past, and Cuba as a whole, is slowly starting to open up its secrets to the world.
3 days in Havana
Now let's take a look at our 3 day itinerary which we feel will give you the best overall experience of Havana.
How Many Days to Spend in Havana?
We recommend a minimum of 3 days to explore Havana, which includes time seeing the best sights in the city, getting a feel for its unique culture as well as heading on some great day trips close by.
This itinerary has been designed specifically so you have enough time to see all of the best landmarks and historical sites.
As well as this, you'll have some time to enjoy a picturesque beach as well as get to know the true Cuba (and not just the touristy side).
🔒 Get a FREE insurance quote from
SafetyWing
to get the right (and timely) support when it comes to protecting yourself while in Cuba.
Best Time to Visit Havana
Havana has some contrasting seasons which are good to know before heading there.
Firstly we have the dry season, which starts in November and runs until early May. The temperatures during this time are slightly lower than of the wet season, with a daily average of 71-78°F.
Highs can reach up to a solid 86°F, whilst lows can dip to around 64°F (January is overall the coolest month to visit Havana).
Rainfall is scarcer this time of year, with between 1-1.5 inches falling in each of these months.
The contrasting wet season runs from May until October and is both hotter and wetter. Average temperatures range from 78-81°F, with highs of up to a sultry 89°F and lows of a warmer 72°F (July and August are the hottest months to visit).
Rainfall is slightly heavier this time of year (although not by too much as one would otherwise expect), with between 2.5-4 inches falling throughout each month.
Overall, the best month to visit Havana for the weather is May. Not only are temperatures nice and hot, it's still just within the dry season so skies are still clear without that much rain.
Havana Itinerary (3 days)
Now let's take a look at our 3 day Havana itinerary, which we feel will give you the best overall experience of the Cuban capital.
Day 1 in Havana
Upon arriving in Havana, we'll first get to our accommodation to unload bags. You'll find guest houses as well as hostels are popular in Cuba.
This will be a good time to start looking for the local CUP currency, which gives better value (you can ask around in your accommodation and they should be able to help you).
After having breakfast, we'll begin by exploring the Old Havana district, which is full of surprises around every corner. Be sure to make stops at El Capitolio and Plaza Vieja for the very best photo opportunities.
From here we can then grab some lunch and drinks at the famous Bodeguita del Medio, which was a prime spot for Ernest Hemingway and many other famous regulars.
In the afternoon we will then head to Fusterlandia to see how a local has turned his run-down street into a cultural icon, filled with beautiful murals and monuments.
We then suggest heading back to the center and taking a vintage car tour.
Then you can finally sit back and relax as the driver shows you the best of Havana, and also able to stop along the Malecón for the sunset.
Day 2 in Havana
Today we'll wake up very early to catch the bus (or shared taxi) to the town of Viñales.
Around 140km away, Viñales is known for its incredible sceneries which can be explored on horse-back.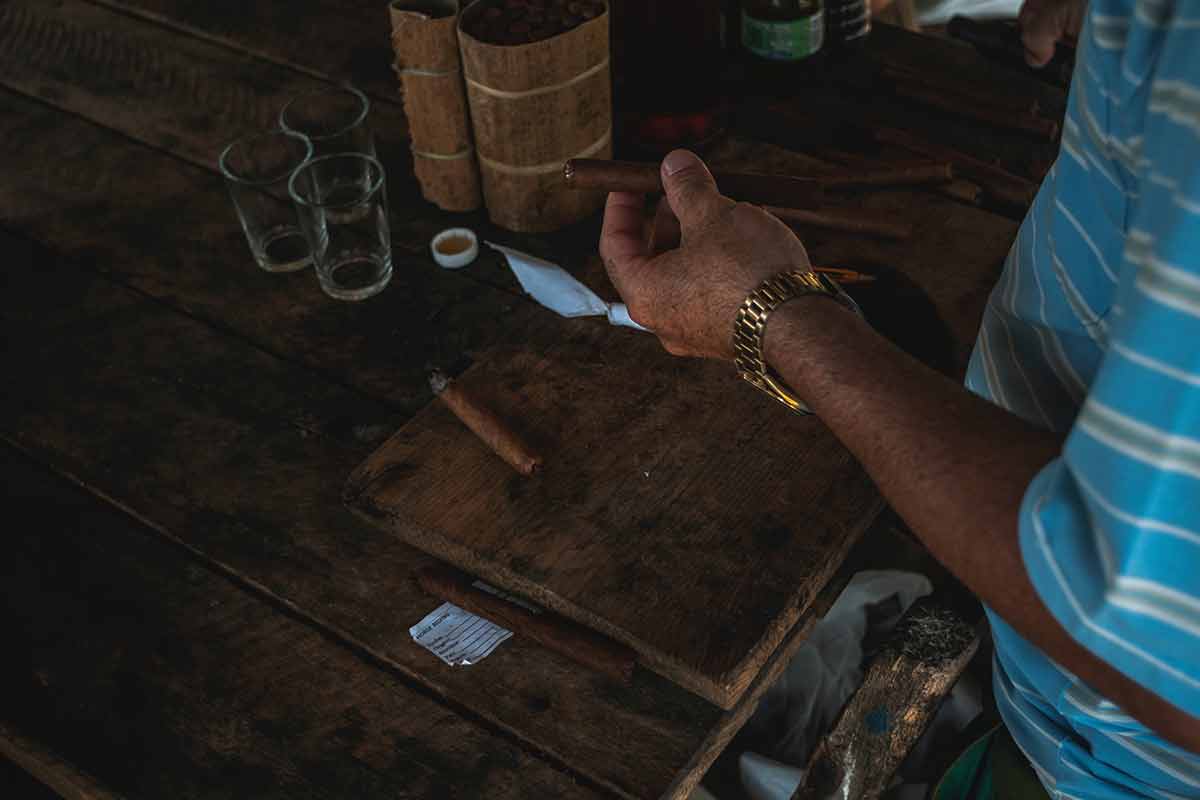 Along the tour can visit tobacco plantations as well as learn from the locals what it was really like during Cuba's reign under Fidel Castro (and not just the marketed version that has been sold in the West).
If you love cigars or want a souvenir, this is the best place to buy them in Cuba.
Whilst in Viñales you can also explore the cute cobblestone town with its plaza, before making your way back to Havana.
In the evening, we recommend heading to the lively area of Calle 23 if you want to get your groove on, with a mix of Latin, Salsa and Electronic clubs all in abundance here.
Day 3 in Havana
On our third and final day, we'll get up early and head to the nearby town of Santa Maria del Mar.
Whilst there are beaches in Havana, this coastal paradise is a nice relaxing welcome, especially as its less frequented yet has a much more beautiful beach.
Here you can buy fresh coconuts and Piña Coladas from locals, and relax in the hot sun.
When ready we can then head back to Havana for a hearty Cuban lunch at Mojito Mojito in the old district, before making our way back to the accommodation to pack our things and head to the airport.
Day Trips From Havana
Doing a day trip from Havana will give you the opportunity to see more than you usually would but all within a much shorter time frame.
Santa Maria del Mar
A true gem in its own right, Santa Maria is a beachside town with arguably the best beach within the Havana region.
Hardly any tourists know of the stretch of coast, so head here and you'll be greeted by many friendly locals, with an abundance of coconuts, fresh seafood and cheap cocktails to tickle your fancy.
There's also very little in terms of development, so it's a great opportunity to see a true Cuban beach without the extensive hotels laden on it such as in the popular resort town of Varadero.
Viñales
A small town located in the extreme west of Cuba, Viñales is famous for its production of Tobacco, with the micro-climate here providing the best growing conditions on the entire island.
Also home to some incredible landscapes, the best thing to do here is to join a horse-riding tour where you'll explore all, and also learn of some low-key gems from the locals as you head through this beautiful region.
In the very center, you'll also find many cute cobblestone streets, as well as the main plaza which tends to get livelier come the evening.
Things to do in Havana
With so many attractions to see, we'll start by looking at the popular activities that you wouldn't want to miss during any trip to Havana:
Explore Old Havana
The historic center of Havana is where you'll want to come to see the real Havana.
With old streets, crumbling architecture and vintage cars in every corner, here you'll be able to step back in time and discover the true Cuba.
Some of the best things to see here include the Catedral de San Cristobal, Plaza Vieja and El Capitolio.
Fans of Hemingway will want to come to Bodeguita del Medio, a small restaurant which is often frequented by celebrities, where you can sip on original cocktails and try some rich Cuban dishes.
Do a Vintage Car Tour
This has to be one of the most popular things to do in Havana, not to mention also the coolest way of seeing the capital.
Whether you're a big car fan or not, there's something alluring about stepping back in time and being driven around in a classic car (especially those that are rarely seen in the world today – all in abundance here!).
There's many tour companies you can pick from, and you'll make stops at some of the best sites around town.
Visit Fusterlandia
Once one of the poorest neighborhoods of Havana, this district has since been converted into an artsy outdoor museum by artist José Fuster.
Along a walk here, you'll see many buildings painted in bright and contrasting colors, with many monuments and structures designed to reflect Cuba's both proud and turbulent past times.
It's located in the tiny district of Santa Fe, west of Havana, and you can easily walk this district independently to see all of the best bits.
Havana Travel Tips
Visiting in the months of May and October are not only great for the weather but are also cheaper. This is because these are considered the shoulder seasons, where most tourists are yet to have arrived.
If you're traveling to Havana solo or on a tight budget: check out Havana's top-rated hostels for the perfect place to make friends whilst traveling Cuba.
Some areas of Havana are still quite poor, so be sure to dress down when exploring as to respect the situation (and also to avoid potentially becoming a target of theft).
The overall best area to stay in Havana is Havana Viejo, which is known for its colorful and authentic streets, and also is close to many of the top destinations and attractions of the city.
Get your FREE travel insurance quote from SafetyWing to receive fully comprehensive support when it comes to unforeseen travel complications.
Pick up some Spanish before you leave, as the majority of locals here don't speak English. Even a few phrases will come in handy, and also show locals you're making the effort which they'll appreciate!
When first arriving in Cuba you'll only have access to the CUC (Cuban Convertible Peso) currency. There's another dual currency used by locals here which is the CUP (Cuban Peso). Try to get your hands on this as well, as the value is much better.
3 days in Havana
As well as knowing the best time to visit, you now have some great ideas on how to spend your precious time in this charming city.
Need more inspiration or tips on how to enhance your stay?
Give these sustainable travel tips a read to learn about other factors to consider when traveling to a remote island paradise such as Cuba.
---
Dear responsible traveler: This post may contain affiliate links, which means, if you click through and make a purchase, book a tour or a hotel, we may earn a small commission. This is at no additional cost to you. Your support means a lot and helps us to maintain the quality of this site.