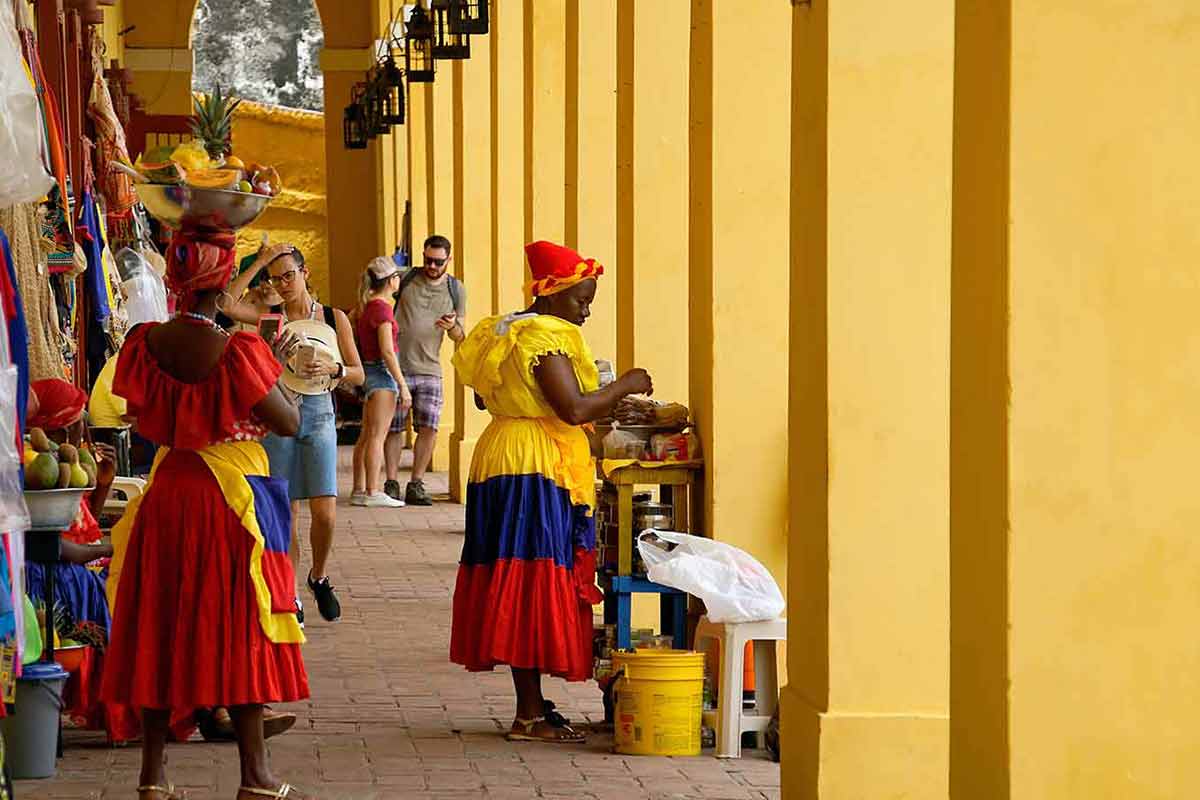 Welcome to this itinerary for 3 days in Cartagena, Colombia.
Cartagena is a coastal city located along Colombia's Caribbean Coast and is one of the most popular destinations to visit in the country.
3 Days in Cartagena
We recommend a minimum of 3 days to explore Cartagena, which includes time to see the best sights in the city.
This also allows you to head on some great day trips within the region.
The itinerary included in this article is designed specifically so you have enough time to see the best landmarks and historical sites.
You'll also have time to relax on some of the best beaches in Colombia.
Follow the itinerary along with our sustainable travel tips and you'll be well on your way to a memorable stay on Colombia's Caribbean coast.
Best Time to Visit Cartagena
Cartagena is consistently hot throughout the year, however, there is a contrasting wet and dry season that should be noted.
The dry season runs from December until April and has average daily temperatures of 80-82°F.
Highs can reach up to 87°F, with lows sitting around 76°F (January is the coolest month to stay in Cartagena). Rainfall is at its lowest this time of year, with between 0-1.5 inches falling each month.
The wet season begins in May and continues until November. Average temps during this time range from 82-83°F, with highs of 88°F and lows of 78°F (May to September is the hottest time to visit Cartagena).
Rainfall is much higher this time of year, with between 3.5-6 inches falling throughout each month.
Overall, the best months to visit are between January and March, where there is little rainfall and hot temperatures perfect for soaking up the sun.
Cartagena, Colombia Itinerary (3 days)
Now let's take a look at our 3 day itinerary which we feel will give you the best overall experience of Cartagena.
Day 1 in Cartagena
Arriving in Cartagena, we'll make our way to the accommodation in the walled city to unload bags and get ready for a busy first day.
We'll first head to the historic center, where we can wander around and see the best sights including the Catedral de Santa Catalina, as well as walk on top of the fortified walls of Baluarte de Santo Domingo.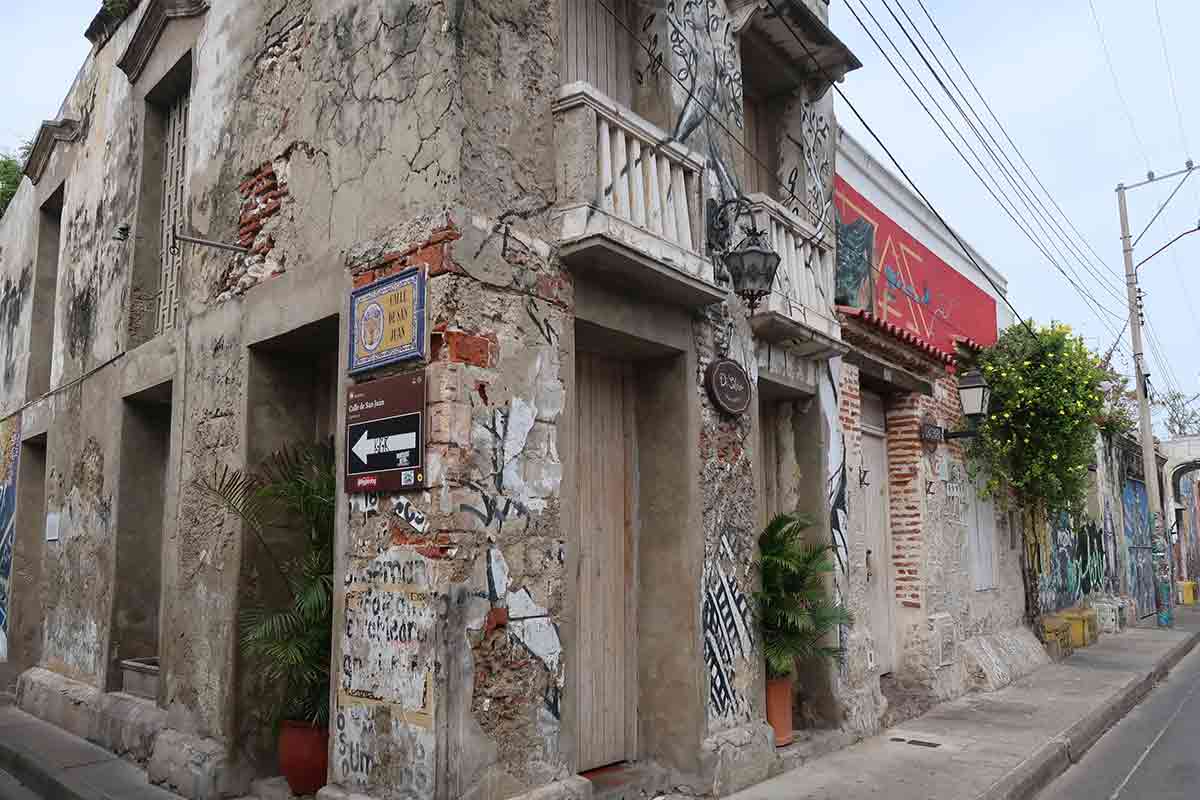 Next up we'll walk for 10 minutes to reach the hip neighborhood of Getsemani, where we'll have lunch. Check out the menus at both local restaurants and street food stands to see what looks best.
After waiting for the midday Sun to dip, we'll then head to the cute Plaza de la Trinidad with its yellow church, and also explore some incredible murals along the streets of Lomba and Pozo.
In the evening you can head out to one of many bars in the Getsemani, or board the infamous Chiva party bus for an unforgettable night out.
Day 2 in Cartagena
On our second day we'll jump on a tour to El Totumo, which will pick you up from your accommodation early in the morning.
Here you'll be able to relax in the naturally heated mud baths, whilst then get a wash-down by indigenous women in the nearby river (you'll be expected to leave a tip for the service).
With lunch included, you'll head back to Cartagena for mid-afternoon.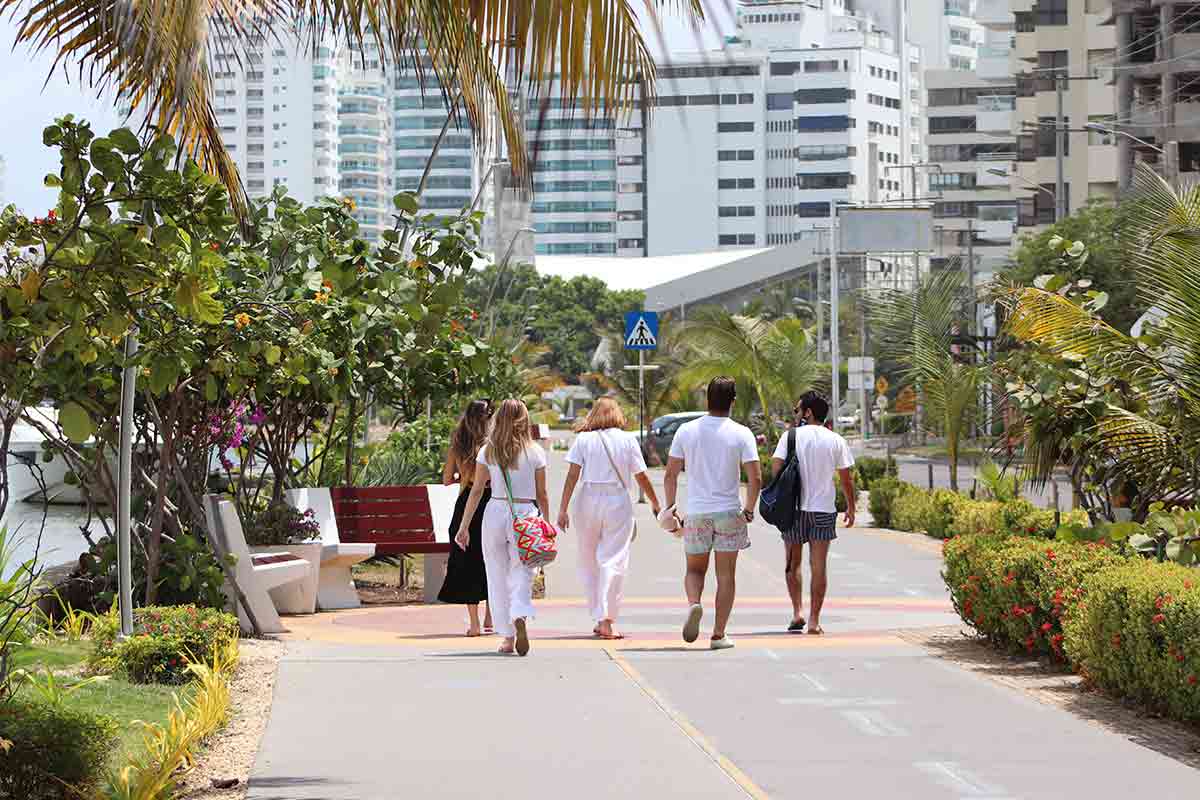 Once here, we'll then head to the Fort of San Felipe. Known as the most formidable fort of the Spanish Empire, you'll be able to explore the massive structures and cannons that line the viewpoint.
It's also a fantastic place to watch the sun go down over the historic area of Cartagena.
Day 3 in Cartagena
On our last and final day, we'll get up early and take a ferry over to Playa Blanca. See this all inclusive tour for ease and to save precious time.
Known as one of the most beautiful beaches in Colombia, we'll arrive in the island of Baru and have the day to deservedly lounge on the beach and swim in the turquoise waters.
Here there's many small food shacks and small restaurants near the beach for when you start to feel peckish.
Once ready you can then take the ferry back to the mainland and to your accommodation to pick up your belongings.
🔒 Get a FREE insurance quote from
SafetyWing
to get the right (and timely) support when it comes to protecting yourself while in Hong Kong.
Day Trips from Cartagena, Colombia
Doing a day trip from Cartagena will give you the opportunity to see more than you usually would but all within a much shorter time frame.
Tierra Bomba Island
The closest island to Cartagena, here you'll find a much more relaxed beach scene compared to the hectic Bocagrande that lines the city.
Here you can chill along the beach in Punta Arena, which is the best town of the four in the island.
Whilst here make sure to try typical Caribbean-Colombia food such as patacones, fried fish and coconut rice.
Playa Blanca
This beach is absolute must-visit when in Cartagena, and can be reached by taking a 2-hour ferry that departs hourly from the coastal city.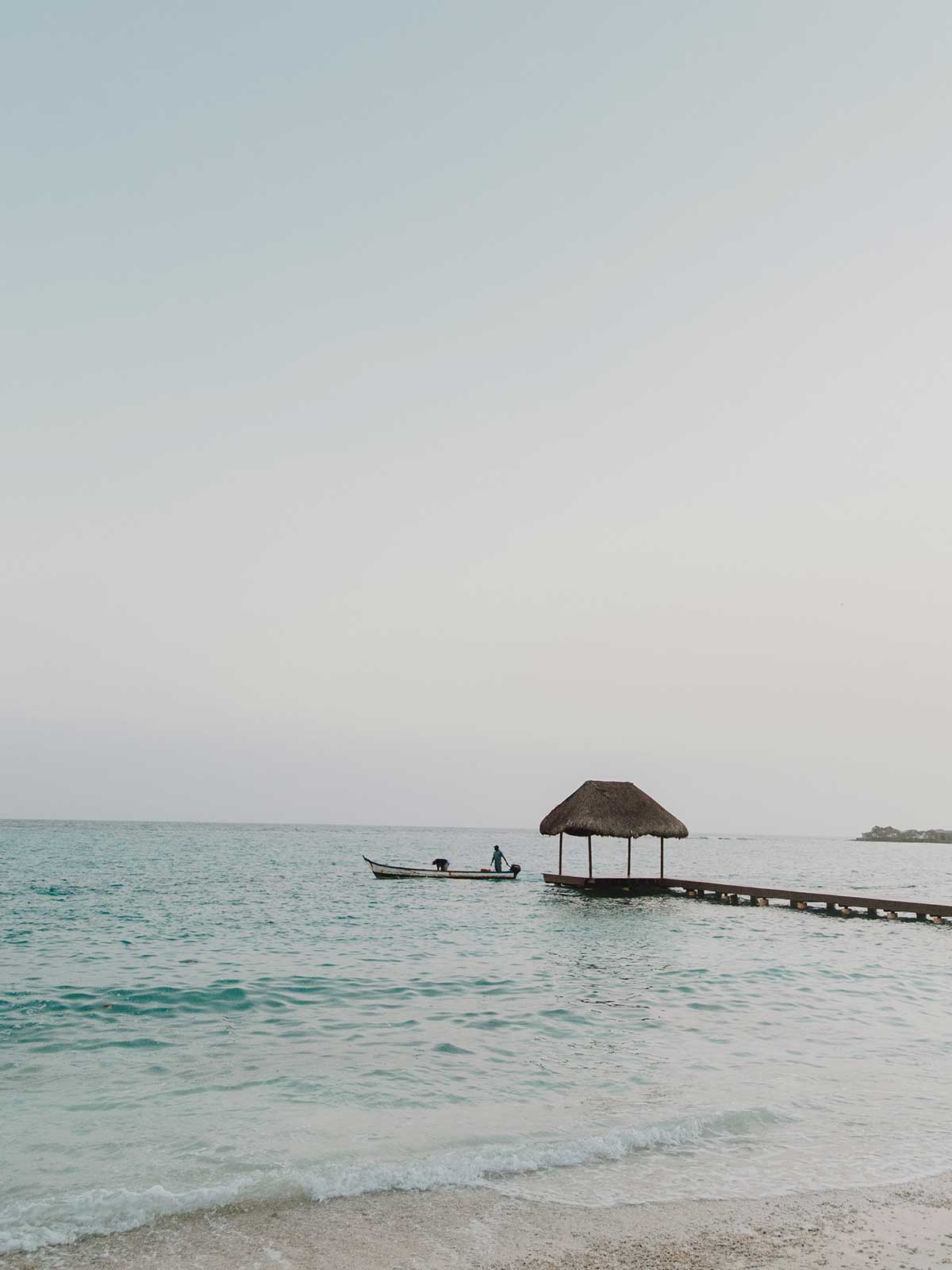 Aside from lounging on the white-sand beach, you can also do water-sport activities such as jet-skiing, or the famed plankton tour at night.
Whilst snorkeling is great here, we recommend heading further out to the nearby Rosario Islands for an unforgettable underwater experience.
El Totumo Volcano
Known as one of the smallest volcanoes in the World, Totumo is best known for its heated mud at the surface, which has some really great health benefits.
It's located around an hour outside of Cartagena, and the easiest way to get here is on a day trip or tour from the city. Along the way you'll also visit some other small gems.
Things to do in Cartagena
With many attractions to see, we'll start by looking at the popular activities that you wouldn't want to miss during a visit to Cartagena:
Explore the Walled City
Like many of Latin America's previously colonized cities, Cartagena too also has its own historical centre.
This one is very unique though, with large stone walls forming a dome around to protect the city from planned attacks and invasions.
San Felipe Castle
This fort is a must visit, with it being known as the most formidable defensive structure ever created by the Spanish.
A UNESCO World Heritage Site, this castle is one of the must-sees when in this historically important city.
Mercado de Bazurto
A sprawling market located within the Magdalena Sector, Bazurto is a great way to experience the real Cartagena.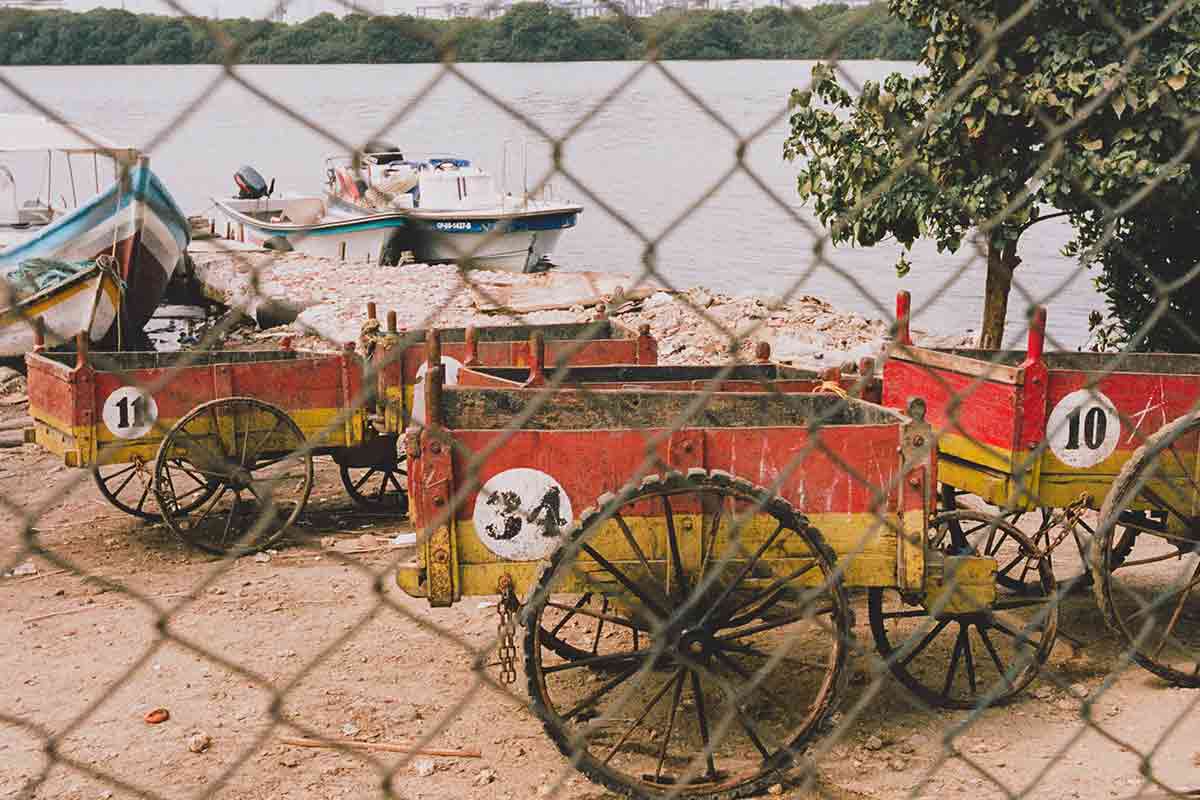 With an incredible array of exotic fruits, seafood and more, get ready for a hectic yet enticing visit, with stalls that surround and welcome you from every corner.
Getsemani
This artsy and bustling neighborhood is the true beating heart of Cartagena.
Here you'll find postcard-perfect streets and lots of striking murals lining its cobblestone paths. It's also the best place to experience Cartagena's authentic nightlife.
Cartagena Travel Tips
The best area to stay within Cartagena is Getsemani, which is a very artsy neighborhood. Another good area is within the historic centre, both of which are quite safe.
If you're on a budget or traveling to Cartagena solo: check out these top rated hostels for some stylish rooms during your stay.
When exploring Cartagena, avoid heading further east than the San Felipe Castle, unless you know the area or directly take Ubers from destinations. This is because it can get quite unsafe in these areas.
Consider heading to Baru Island independently. This way you'll have more time to spend here as you wish, as well as saving a lot more money than if going with a tour company.
In places like Cartagena, always carry sunscreen like this one to protect your skin's appearance and health from harmful UV rays.
For those looking for a good night out, then hop aboard a Chiva Bus. With all drinks included you'll speed around the city with music on-board, and is a perfect way to enjoy Cartagena's vibrant nightlife.
Get your FREE travel insurance quote from SafetyWing to receive fully comprehensive support when it comes to unforeseen travel complications.
Consider spending more time in Cartagena, where you can then head on a day trip (or multiple day trip) to the beautiful Rosario Islands just off the coast of the city.
3 Days in Cartagena
As well as knowing the best time to visit, you now have some great ideas on how to spend your precious time in this charming city.
Got more time in Colombia or South America?
Why not read this South America itinerary which looks at other factors you may went to consider when traveling to this continent.
---
Dear responsible traveler: This post may contain affiliate links, which means, if you click through and make a purchase, book a tour or a hotel, we may earn a small commission. This is at no additional cost to you. Your support means a lot and helps us to maintain the quality of this site.