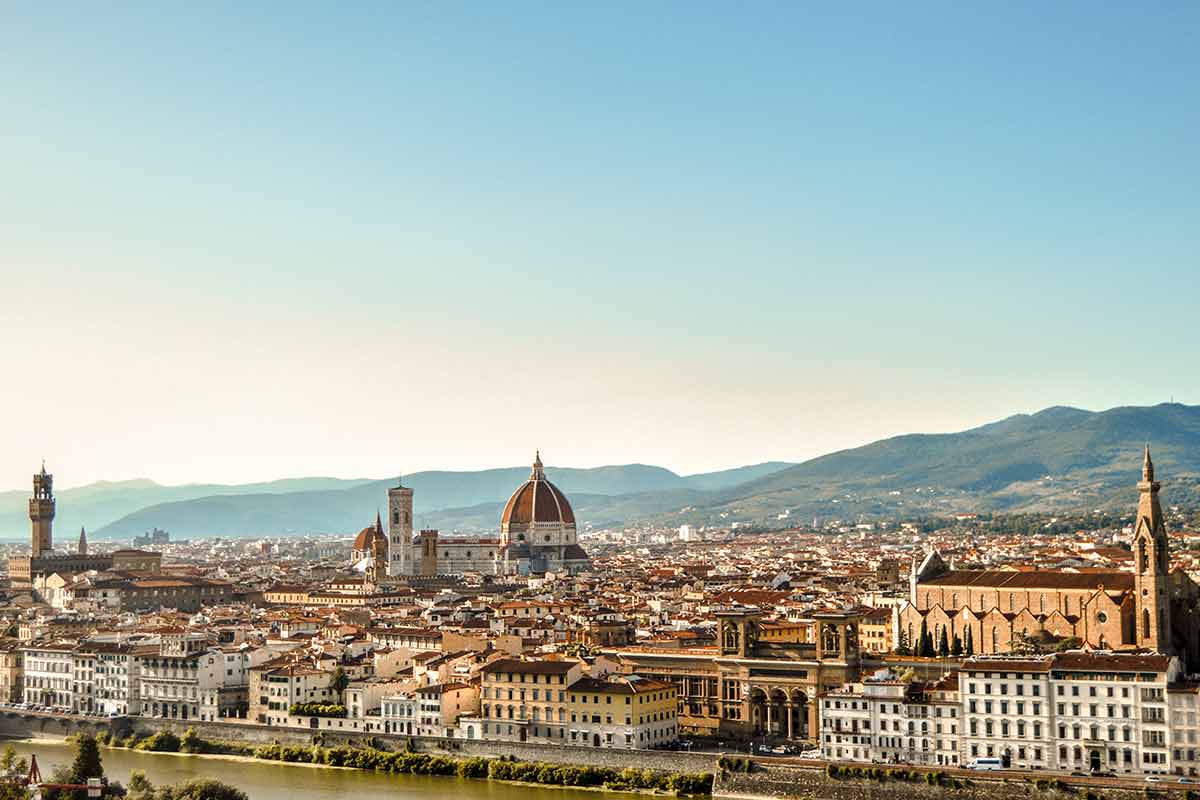 Florence is the most important city in Tuscany and a place full of unique gems that are just waiting to be discovered!
Florence is the cradle of the Renaissance, and it's no secret that it's only here that you get to see some artistic and architectural masterpieces, like the 'David' of Michelangelo and 'The Birth of Venus' of Sandro Botticelli.
2 days in Florence
If traveling from Bologna your next train stop is Florence Santa Maria Novella station which is just a 10-minute walk from the city center.
Before arriving in the city, though, lets' take a quick look at some of the reasons we believe Florence is worth visiting for.
Is Florence worth visiting?
Florence is the art mecca and the cradle of the Renaissance. There's no other place in Italy where you have the chance to admire such a vast collection of masterpieces of this flourishing artistic period.
Florence is home to two art institutions that are the Uffizi and Gallerie dell'Accademia, both known worldwide. Florence offers a similar experience of Rome when it comes to art and culture, but just on a smaller scale. Its main attractions are within a walkable distance.
Florence is a fantastic destination for foodies! Tuscany is well-known for its great food and incredible wine heritage. In Florence, you can find thousands of restaurants where to try the signature dish: the Fiorentina steak. Also, don't forget to try the mouthwatering pappardelle with wild boar sauce and the best gelato of Italy!
Dreaming to explore the Tuscan countryside? Everybody did at least once! Thanks to the great train and flight connections with the rest of Italy and Europe, Florence is the perfect starting point from where to move around and explore the rest of the region.
With all the things to do in Florence, let's now consider the number of days needed to enjoy the landmarks and suggestions in this itinerary.
How many days in Florence?
Thanks to the city's compact size, you can walk around its historical city center in just 24 hours. But this is not enough time to visit all the most important landmarks and enjoy the unique vibe this city has to offer.
We suggest spending at least 2 or 3 days in Florence in order to get the most out of this popular Italian tourist destination.
You can easily add Florence as a stop to an extended Italian itinerary too!
Take a look at this 2 week in Italy itinerary for some inspiration, and to understand how it's connected by train to other major Italian cities.
Florence is located in a very strategic position from which you can easily reach smaller medieval villages in the Val d'Elsa and Chianti hills region.
Be sure to check out:
San Gimignano
Volterra
San Miniato

If you want to discover what else this region has to offer, then you could spend even more than 3 days in Florence and then use the city as a base to visit the many other wonders that Tuscany has to offer.

Is Florence safe?

Florence is a safe city and there's no reason to be worried about visiting.

The only risk you can encounter is pickpocketing, which can be quite common in any tourist city of the world.

We suggest being extra cautious when you're moving around Santa Maria Novella railway station because it's where the numbers of pickpockets and purse-snatchers are slightly higher.

As you would do anywhere else, use your common sense and avoid, if possible, street beggars and keep an extra eye on your belongings when in the middle of big crowds around the city.

There are no particular areas or neighborhoods that you should avoid in the city center. That said, Florence is one of the safest cities in Italy.

Things to do in Florence (day 1)

As part of our 2 weeks in Italy itinerary, we suggest getting to Florence from Venice with a stop off in Bologna, so be sure to check that out.

Now, let's take a look below at the landmarks in Florence to visit as part of our larger Italy itinerary which we have already linked for you above.

Florence Cathedral

The beauty and complexity of this cathedral are just breathtaking, this is considered the largest religious Christian complex building.

Painted ceiling inside Florence Cathedral

The first works on this church started in 1296 and lasted for more than 72 years! Pay a visit to the dome, a project by Filippo Brunelleschi.

To reach the top you'll walk up 463 steps, but the view from there will pay off all the physical effort. Finish the visit with a look a Giotto's Campanile.

Uffizi Museum

This is one of the world's most famous museums and a real showcase of Italian artistic genius, especially during the thriving Renaissance era.

Inside the Uffizi museum

The ticket cost is between 12-20 euros for adults. Masterpieces you can see inside the galleries are: 'The Birth of Venus' by Sandro Botticelli, 'The Annunciation by Leonardo da Vinci and 'Medusa' by Caravaggio.

Stay at the Palazzo Vecchietti – Residenza d'Epoca, a 16th-century building designed by the talented architect Giambologna, now houses stunning suites, only 6 minutes walk away from the Uffizi Gallery.

Duomo and Signoria Square

Piazza del Duomo is the religious heart of the city whereas, Piazza Della Signoria represents the civic heart of Florence.

Piazza Del Duomo

The Cathedral square is surrounded by the cathedral, Giotto's bell tower, the Baptistery, and Loggia del Bigallo.

Piazza Della Signoria is where Palazzo Vecchio is located, the most important building during the Florentine Republic period.

Ponte Vecchio

The Old Bridge is a medieval arch bridge on the Arno River, that similarly to Venice has shops on it.

Ponte Vecchio

In the past, there were butchers and farmers' shops but nowadays, you can find jewelry and souvenir shops. Here you can enjoy one of the most spectacular views of Florence and on the river.

Did you know? You can stay at the Hotel Pitti Palace al Ponte Vecchio to admire the famous bridge from your room and 360° views of the city.

Things to do in Florence (day 2)

The landmarks in Florence below are places we suggest you visit on your second day once having visited all of the above.

Pitti Palace

Cross the Old Bridge, and you'll get to Pitti Palace. This is one of the largest palaces of Florence. It dates back to 1457 and is a project by Filippo Brunelleschi for the Pitti family.

Pitti Palace

At a later stage, the palace became the property of the Medicis family. On the first floor, it hosts the Palatine Gallery and on the second one the Royal Apartments.

The Boboli Gardens

It's considered an open-air museum in Florence and the most beautiful gardens in the city. This garden inspired the curators of the Versailles residence gardens and many other European Royal gardens.

Boboli Gardens

There are centuries-old trees, sculptures, fountains, and an amphitheater along with many other highlights to not miss.

For a stay close to the picturesque Boboli Gardens, see this incredible property Casa Botticelli, situated 120 meters away from Palazzo Pitti.

Church of Santa Maria Novella

This church is close to the main train station, and it's one of the many churches to visit in Florence for the abundance of artistic masterpieces.

Leon Battista Alberti designed the unique church facade of white and green marble.

Church of Santa Croce

After visiting the Duomo, you can make a stop in Piazza Santa Croce and take your time to admire the last church of these 2 days in Florence.

Santa Croce Church

Inside this church, you can visit the funeral or burial monuments of some of the greatest artists of all time, like Michelangelo and Galileo Galilei.

Florence Itinerary Map

See the map below to accompany our 2 days in Florence itinerary:

Florence Travel Tips

See our list of travel tips to take with you:

The landmarks in Florence suggested above are designed for you to see some of the city's most popular sites!
Remember to get your FREE travel insurance quote from SafetyWing to receive fully comprehensive support when it comes to unforeseen travel complications.
If you are traveling alone, be sure to 'always' carry your cell phone along with you, if you have one that is. Even if you are just popping out of your hotel to go to the main square.
Check out the Trenitalia website to see how all of the train stations are connected if you'll be using public transport.
From Florence you can even take a day trip and visit all five villages of the colorful Cinque Terre National Park on a special guided tour.
Try to carry cash and items of value with you at all time in a front or inside pocket, you'll find Pacsafe make some great bags/backpacks for traveling around with valuables.

Although you shouldn't need to abide by any specific rules for safety in Florence, never let your guard down. The city has little crime towards tourists, so imagine yourself in a safe space whilst here.

2 days in Florence

Now with this itinerary, you should have some ideas of which places to visit in Florence!

You'll quickly learn that most of these landmarks are quite popular with people who are visiting the city for the first time.

So what are you waiting for? Be sure to start planning your trip to Italy today and aim to follow some of our sustainable travel tips to ensure that your trip has a positive impact on the local environment.

---

This post contains affiliate links, meaning, if you click through and make a purchase or sign up for a program, we may earn a commission. This is at no additional cost to you.